2017 new design 40CBM lpg trailer tank transport semi trailer 20tons
1)lpg lpg trailers capacity
30,000l, 35,000l, 40,000l, 50,000l, 59,520l.
2)lpg cooking gas lpg trailers material
Q345R Q370R SA516
3)lpg cooking gas trailers production flow
cuttings-bending plate-submerged arc welding-assembly-non destructive testing-heat treatment- hydraulic test- sand blasting-painting
4)Main parts of lpg cooking gas tank
Liquid phase, vapor phase, floating ball level gauge, magnetic level gauge, safety valves, cut-off valves, needle valves, pressure gauge, thermometer, fire extinguisher, 2" or 3" king pin.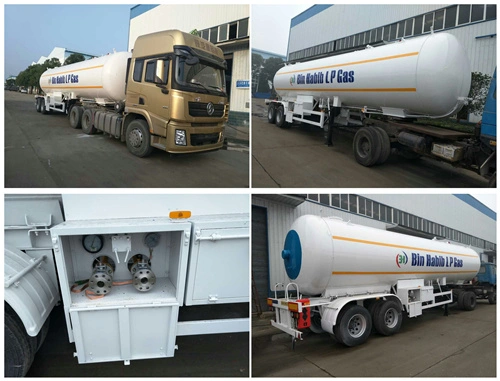 Technical parameter

Item No.

Parameters

Volume of Tank (cbm)

40.5

Tare Weight (kg)

13415

Capacity (kg)

30425

Thickness of Shell (mm)

12

Thickness of Endplate (mm)

12

Nominal Diameter (mm)

2200

Wheel Base(mm)

6720+1320

External Dimensions (mm) (length×width×height)

11324*2500*3730

Tank Dimensions(mm) (Diameter×thickness×length)

2200*12*11044

Material of Tank

Carbon Steel Q345R

Filling Medium

Liquefied Petroleum Gas (propane)

Design Pressure(MPa)

1.61

Corrosion Allowance(mm)

1
Medium Density(kg/ cbm)

420

Axle

3*13T FUWA

Tire

12R22.5 Tubeless tire ,9 pieces total

Landing leg

JOST Brand

King Pin

JOST Brand

Carried standard:

One

Liquid outlet DN50 & vapor outlet DN50, Safety valve, Liquid indicator, Pressure gauge, Thermometer, Emergency Cut-off valve, 2 Tool boxes, 2 Fire extinguishers.
CLW functional characteristics of liquefied petroleum gas tank:
1, pressure components of the product materials, dimensions and weld quality, operation quality, installation quality,safety devices and accessories within the strict qualification
2, conventional tank materials on physical and chemical tests such as: mechanical properties and chemical composition.Their welded joints, weld, tank head, the pressure of the geometric location of each component through rigorous X-ray non- destructive testing and magnetic particle testing inspection.
3, seal on the product, pressure, and those who can affect the operation of product safety testing various technical indicators.
4, A,B Class 100% ray weld inspection, II level qualified, C, D Class welds 100% magnetic particle inspection, I level qualified.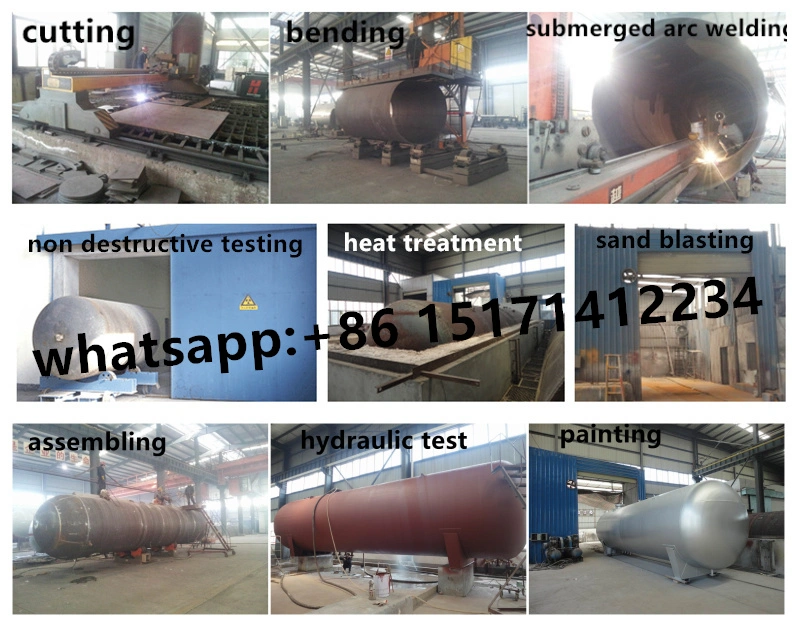 LPG tank series
We can produce all kinds of lpg tank products, such as LPG STORAGE TANK, LPG TANK SEMI TRAILER, LPG TANK TRUCK, LPG TANK CONTAINER, LPG TANK SKID...Attached are detailed pics for your reference: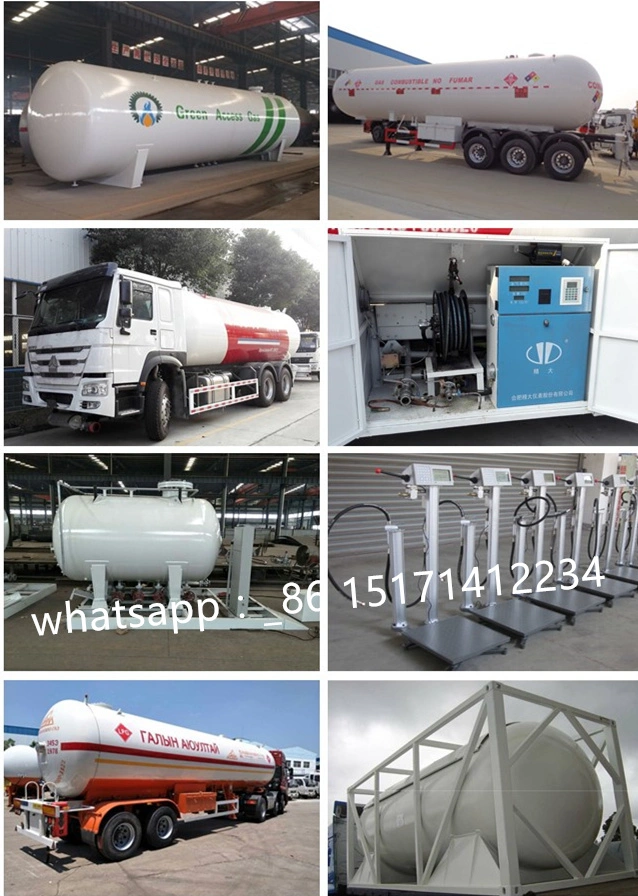 About our company
ChengLi Special Automobile Co., LTD
is a manufacturing group located in SuiZhou City, HuBei Province,China. SuiZhou is near to wuhan, Xiangfan and Shiyan,with these cities, there is a Golden Car Manufacturing hallway along the 318 highway. Among that, SuiZhou is famous as the capital of Chinese special automobile manufactory.
Since being founded in 1998, ChengLi has continually worked to improve its production processes and production tools. Qualified personnel ensure the highest standards of quality control in the manufacture of the principal components and the final assembly. Covering an area of 8 hectares more than 5000 vehicles are produced each year. Our company has independent export right, the product had delivery to many countries around the word. Take 2008 for example, the amount of export reach 2000 units. The registered Labels CLW is well known in these years.
Based on high quality and advanced technology, the leading varieties include more than 200 types of trucks such as water truck, garbage truck, fecal and sewage suction truck,refuse compactor, fuel tank, aerial platform, truck with crane, dump truck, van truck, trailers, fire-fighting truck, refrigerator truck, tractor, bulk cement truck, chemical liquid truck, concrete mixer truck, LPG tank, etc. All products have passed the ISO9001-2000 and t 3C(China Compulsory Certification) standard.
Our main products:
1. Dump Truck / Tipper Truck/Side Tipper/End Tipper
2. Fire Fighting Truck / Fire Truck / Fire Vehicle / Fire Engine
3. Truck with crane / Truck mounted crane
4. LPG Tank Truck Trailer/Oil Tank Truck / Fuel Tanker Truck
5. Water truck / Water Tank Truck / Water Sprinkler Truck
6. Concrete Mixer Truck
7. Van truck / Insulated truck/ Refrigeration truck
8. Fecal suction truck / Sewage suction truck,
9. Cement Powder Tank truck/ Bulk cement truck
10. High-altitude operation truck,
11. Self-loading garbage truck, garbage compactor truck, sealed garbage truck,
12. Semi Trailer ( flat bed trailer / skeleton trailer / dump semi trailer / side wall trailer / low bed trailer / van container trailer / warehouse trailer, etc. )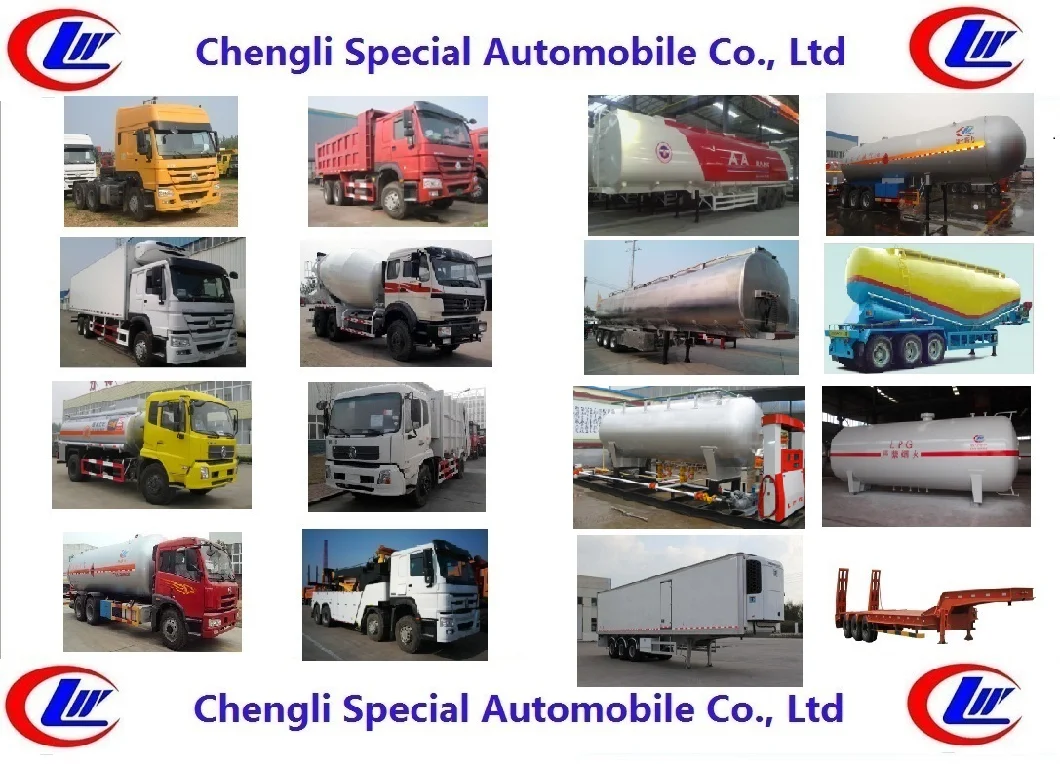 If you are interested in our trucks, pls contact me, I will send our best quotation to you.
Contact person: Krystal Zhang
Tel: +86-15171412234/13872882038