30cbm Bulk Cement Tanker Semi Trailer for Powder Material/Cement-Discharging For Sale
Product Description
DIMENSIONS

Tare weight

7000kg

Size

10500*2500*4000mm

Volume

30cbm

Loading Capacity

The load depends on the density

Tank body

Q235 5mm steel sheet

End plate

Q235 6mm ball shape

Axle

13ton *3 axles

Suspension

Mechanical suspension American type

Leaf spring

Leaf spring 10pcs*90mm*13mm

Manhole cover

500mm manhole cover 2 sets

Tire

12R22.5 *12units

Wheel rim

9.0-22.5 *12pcs

Discharge valve

4" disc valve

Discharge pipe

4" seamless steel tube

Outlet pipe

4" rubber hose. 6meters

Kingpin

JOST brand 2"/3.5" bolt-in king pin

Landing gear

JOST brand two-speed, manual operating ,heavy duty landing gear

Engine

power takeoff on the tractor

Air compressor

37 KW, 0.2Mpa. 1000r/Min

Compartment

1UNITS

Braking system

WABCO RE6 relay valve ;T30/30 spring brake chamber;40L air tanks

ABS

4S2M or Optional

Air-charging system

2" main hole.2" check valve .1.5" safe valve.0.4Mpa.gauge

Quadratic blow

1" diameter check valve

Painting

Complete chassis sand blasting to clean rust ,1coat of anticorrosive prime,2coats of final paint

Accessories

One standard tool box ,one spare tire carrier, one crank ,one shaft head wrench,

Date of delivery

25 workdays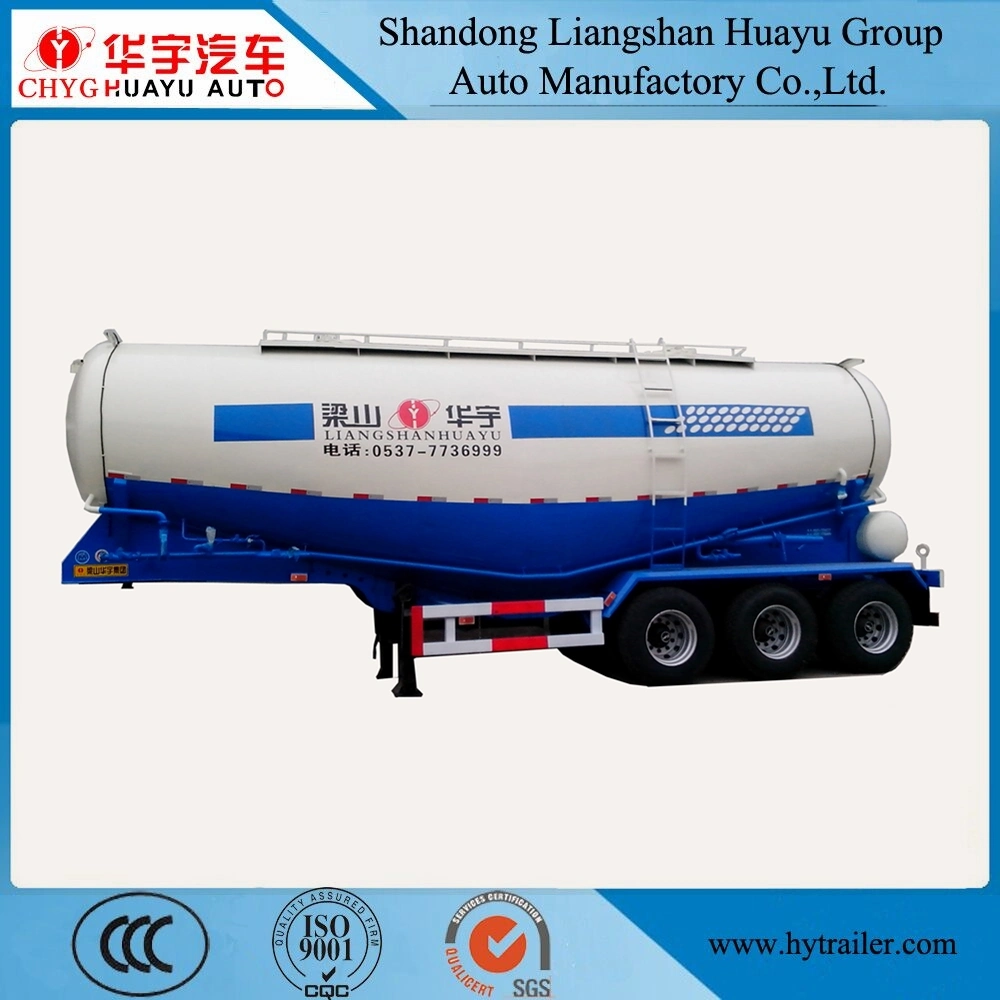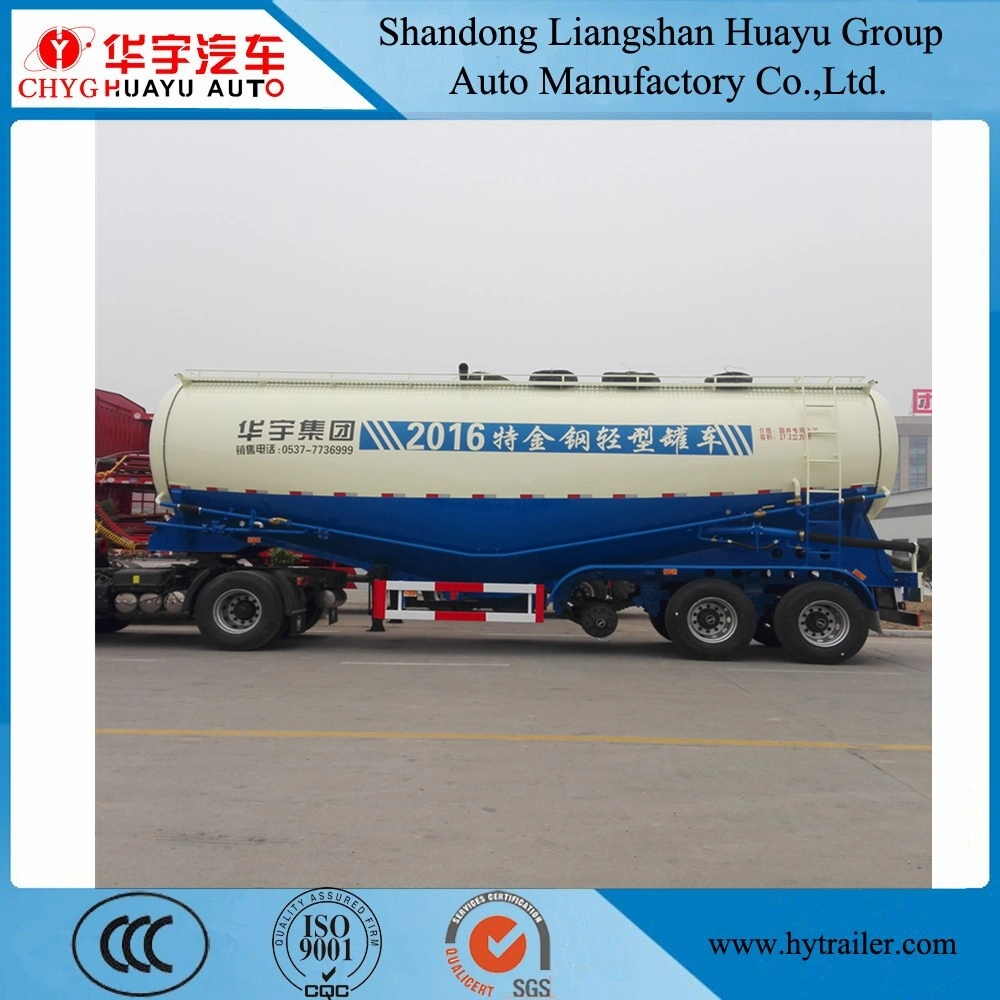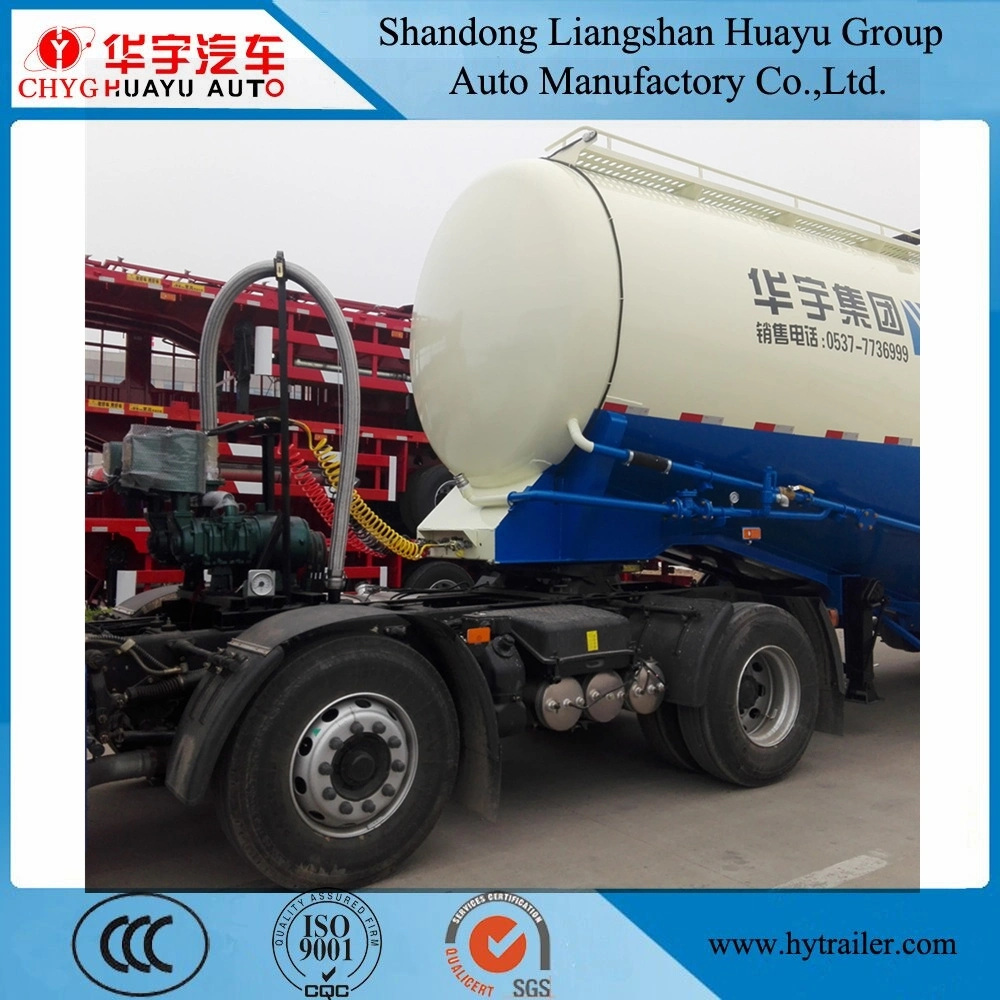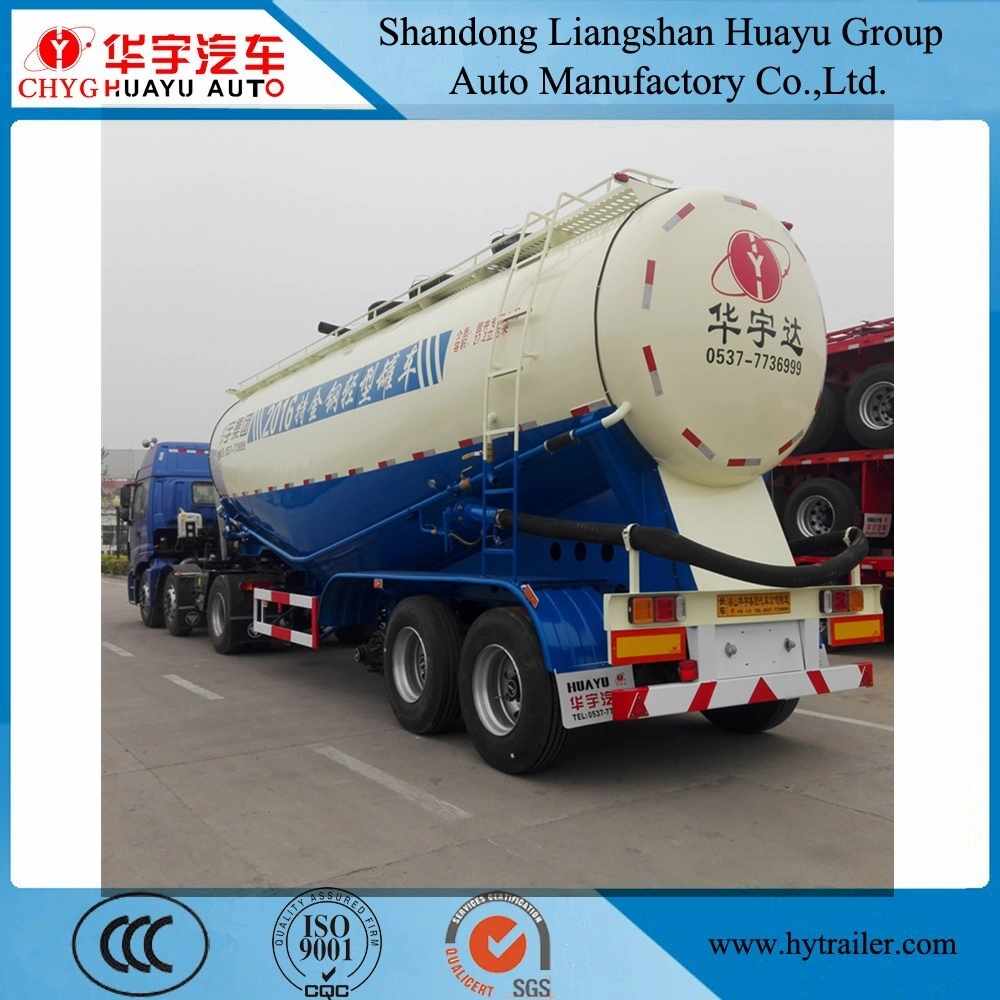 Product Features
Advanced technology: Major parts and components of the trailer are processed by advanced equipments. Longitudinal beams are finished by automatic tracking submerged arc welding machine; all the sub-assemblies are shot-blasted to improve paint adhesiveness and are painted before assembling.
Chassis: To ensure optimal structure for cargo handling and larger payload, the chassis is manufactured as a space frame structure of high-strength steel, 16Mn steel welded longitudinal beam and integrated cross member.
Axle: High performance domestic and imported axles with ABS system optionally available can significantly increase driving safety.
Suspension: High strength and impact resistance new type suspension is adopted with patented rod connecting design. It guarantees performance in rough road condition and longer service life.
Tool Box: Large capacity water-proof detachable tool box.
Hot-rolled structural steel welded 16Mn steel longitudinal beam and cross member are assembled and welded for chassis assembly. The finished chassis offers bending and deforming resistance with proper rigidity and strength.
Tested and proven structure of cargo box is constructed with profiled steel from, corrugated plate and mold pressed steel stake.
Reliable dual circuit air brake with quick release valve and quick repines of wheel cylinder ensures safe on-road and off-road operation.

Sinotruk's Strategic Partner, Manufacturer direct sale,quality guaranteed, low price.
ShanDong Liangshan HuaYu Group Automobile Manufacture Co .,Ltd. is an automobile manufacture enterprise approved by the former National Economics and Trade Committee, with "HuaYuDa Brand" automobile products being catalogued into the national automobile product summary announcement.
The company engaged in designing, researching manufacturing and selling. The company covers above 800 acres, with total assets of RMB 560,000,000.00 Yuan and factory building areas of 236,000 square meters. Now there are more than 2000 staff, therein 180 senior technical engineers. The company equips the first-class CNC cutting, advanced equipment of welding and stamping, and excellent quality guarantee system, modern testing means and high qualified specialist technicians. Our company is a special purpose motor vehicle manufacturing enterprise which has large scale of production, perfect Quality Management System in domestic.
As a trailer professional manufacturer for many years , we accepet meet any kinds of semi trailer customized requirement. The trailer payload from 20 ton up to 300 ton to meet different road transportation demand,and every one of them an innovative and efficient transport solution with an excellent price / quality ratio.
The most important thing to us is the trust of our customers and principals.


After-sales service
Semi-trailer adopts computer 3D aided design,rational structure,Use the high quality high strength steel production. welded by automatic submerged-arc processes.All our spare parts are from the original manufacturers with original part number and and anti-fake label, the quality is 100% guaranteed.
ITEM

WARRANTY TERM

Main Frame

frame

1 year

king pin

1 year

suspension

6 months

balance arm

3 months

U-shaped bolt

3 months

pull rod

6 months

leaf spring

3 months

landing gear

3 months

spare tire carrier

3 months

Running Gear

axle

1 year

axle bearing

3 months

wheel rim

3 months

tire

3 months

Braking Device

brake drum

3 months

Relay valve

3 months

brake champer diaphragm

3 months

spring brake chamber

3 months

brake shoe

3 months

air tank

3 months