46000 GallonPetrolum /fuel/Gasoline/Oil/Liquid transport Aluminum tank semi trailer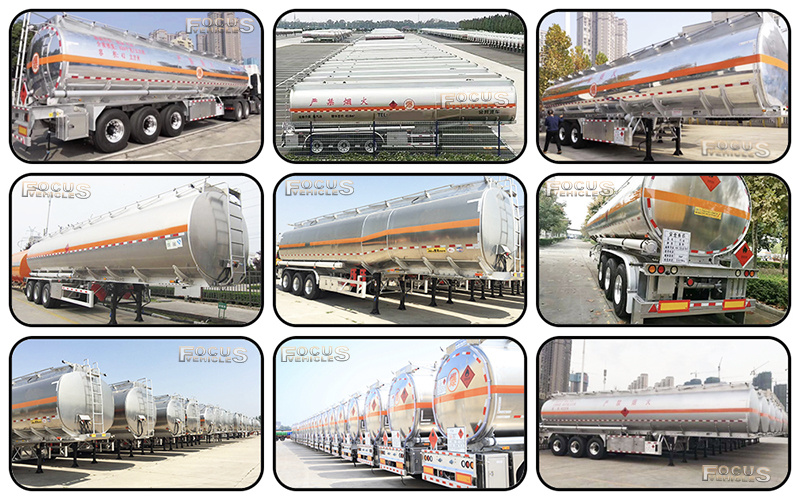 Item
Q'ty
The main parameters

The shape parameters

The vehicle model

/

FCS9406GRY

Dimensions

/

11000*2500*3850mm




The frame configuration

Axle

3 PCE

13T axle

Suspension

/

Steel suspension

Leg

1 SET

JOST E100

Kingpins

1 SET

JOST 90 #, assembled

Tire

12 PCE

12R22.5

Rim

12 PCE

9.0-22.5

ABS

1 SET

4S / 2M (Chinese brand)

Brake system

/

Dual-circuit air brake system; service brake, parking brake, emergency brake (breathe brake)




Tank configuration

The toal volume of tank

/

36000L(including 5% ullage space)

The number of compartment

/

1 compartment

Material of tank

Head

/

5083 /6.5mm

Shell

/

5083/6.0mm

Anti-wave plate

/

5083/6.0mm

Manhole

2 PCE

20inch (KT brand)

Discharge system

Bottom valve

1 PCE

4 inches aluminum alloy (KT brand)

Discharge valve

1 PCE

3 inches (KT brand)

Vapor Recovery System

/

No

Discharge pump

/

No

Delivery hose

2 PCE

3 inch rubber hose, with the pipe box

Fire extinguisher

2 PCE

8kg dry powder fire extinguisher

Ladder

1 PCE

Steel

Tank top walkway

1 SET

Carbon steel tank top anti-sliding walkway

Control box

1 PCE

Carbon steel control box

Toolbox

1 PCE

Carbon steel toolbox

Spare tire rack

1 PCE

/

Lighting

1 SET

LED lights

Reflective logo

/

3M reflective logo

Safety Accessories

/

An anti-static drag strip, An antistatic reel, A Flammable liquids signs


The tank trailer can be for fuel, water, chemical liquid transportation, it can be customized:
• Carrying for water, fuel, petrolum, crude oil, Diesel, Gasoline Fuel, asphalt, chemicals, corrosives, petro-chemicals, liquid fertilizer, caustic soda, concentrated sulfuric acid, etc.
• The inside of tank body is corrosion-proof treated to meet the transport demands for different kinds of liquid foods and chemical liquids.

Mirror type aluminum fuel tanker trailer
A. Technical Data
* Load Capacity: Volume plus 5% air space;
* Compartment: 1, 2, 3, 4, 5... can be customized
B. Barrel
* Material: Mirror aluminum alloy5454
* Bottom &Top &Sides: 6.0 mm nominal thickness
* Baffles: 6.0 mm nominal thickness
* Bulkhead & Endplate: 6.0 mm nominal thickness
C. Fitting and piping
* Manhole Cover: 2 x 20'', Civacon
* Discharge Valve: API valve, Civacon
* Emergency Valve: Civacon
* Vapour Recovery Valve: Civacon
* Vapour Vent: Civacon
* Overfill Prevention: 2pcs overfill sensor, 1 pce overfill socket, Civacon
* Emergency Cut-off Switch: 2 pcs, Civacon
* Pneumatic Control System: 1 pce, Civacon
* Barrel Bottom Piping: 4'' aluminum piping system
* Anti-static System: standard
D. Accessories
* Ladder: Detachable aluminum alloy ladder, fixed at the rear.
* Walkway platform: Barrel top with anti-skid surface treatment.
* Control Box & Tool box: aluminum, standard, one set, fixed at right side.
* Fire Extinguisher: 4pcs x 6kg ABC dry ice extinguishers with bracket.
* Discharge Hose Box & Discharge Hose: NIL
E. Trailer Construction and Fixture
* Trailer Chassis: aluminum
* Axle: 13 tons; drum brake Brake
* Suspension: Spring leaf system or pneumatic
* Tyre: 385/65 R22.5, TRAINGLE, can be customized
* Rim: 22.5x11.75 steel rim Zenix, can be customized
* Braking System: ABS 4S/2M; T30/30+T30 Spring brake chamber, Wabco
* Kingpin: 50#, JOST
* Landing gear: Two-speed, manual operating, heavy duty landing gear
* Mudguard: Aluminum, standard
* Rear bumper: Aluminum, standard
* Side fender: Aluminum, at both sides of trailer, standard
F. Light: 24 volt system, all lights are LED

For further details, can contact directly.

Our tank trailers advantages:
** Actively introducting and absorbing domestic and foreign advanced design, the tank body is designed with CAD, with reasonable structure, light deadweight, large working volume, and lower transportation cost.
** We choose well-known brand OEM parts, good-looking and drable, decrease the cost of operate and maintain.
** The sub-frame and semi trailer walking machanism are made of high strength GB steel, welded by special welding equipment, light dead-weight, and ensure its resistance to twisting forces, shock and bump, meet load requirements on different kind of road.
** The tank body use snad blasting, rust removal technique and high-grade polyamine paint, which can make the paint a strong adhesion force, beautiful, bright and persistent.
**The liquid tanker is produced with the special equipment, such as large special coiling plate machine and "welding by one side; in shape by two sides" welding machine, with the features of stable quality, cost-saving and good-looking.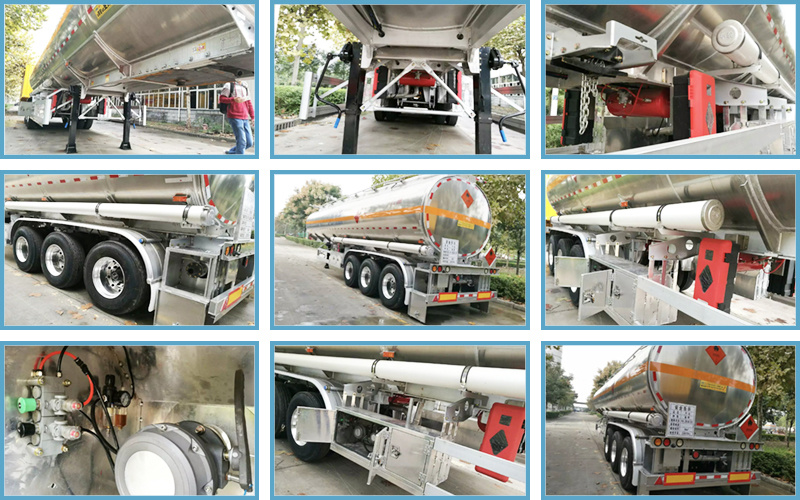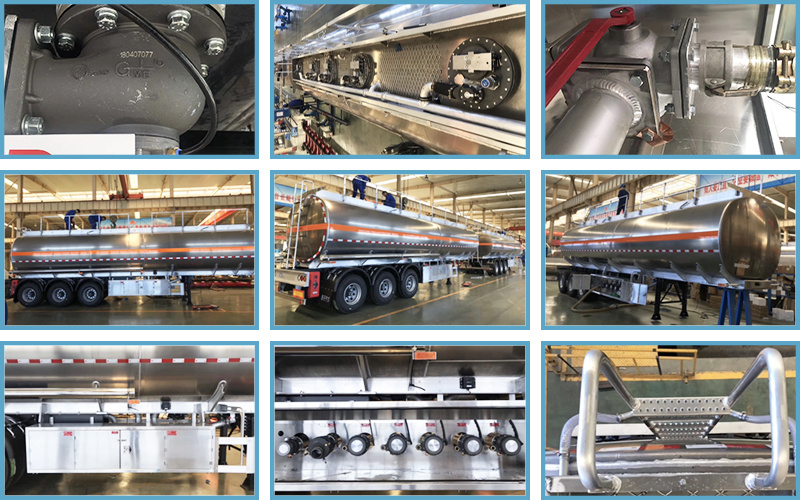 HENAN FOCUS VEHICLES Co.,ltd.(Short for Focus Vehicles), is commited to R&D, manufacturing, sales and services of high-end special vehicles. It has been gained good reputation and awarded with honors and titles, such as"HENAN High-tech enterprise", "Trustworthy Brand","Being committed to supplying high quality equipment and service for urban logistics and transportation", etc. Our mission is to creat more value for clients, employees, partners and shareholds, determined to become a real enterprise being respected in China special vehicles inducstry.
Various of trailers we can provide and be manufactured as special design and with environment protection equipments, Flatbed Semi-trailer, Container Chassis, Low-bed Semi-trailer, Fuel tank Semi-trailer, Bulk Cement Tank Semi-trailer, Fence semi-trailer, Side wall Semi-trailer, Box semi-trailer, Dump Semi-trailer, LPG LNG semi-trailer, Full trailer, Dump truck, fuel tanker truck, water tanker truck, cargo truck, concrete mixturetruck etc with great price and service advantages.
Clients visit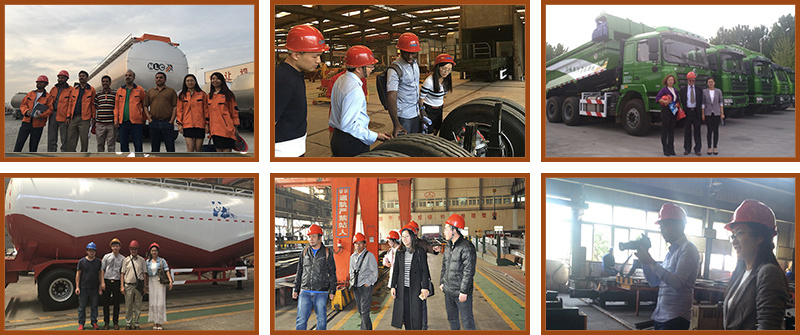 1**You please send us your enquiry;
2**We shall reply you with the quotation within 12 hours;
3**We negotiate on the configuration that you need;
4**Confirmation of the tech data → sign contract (P/I) → 30% deposit (or L/C issuing)→ production;
5**Manufacturing process updated news → completing production;
6**Balance payment → ex works → shipment → custom clearance → A/S service for 1 year.

Service Promise
1. 24-hours hot line at your service, available for quality and extending service.
2. Lifelong free technical guidance service can be provided.
3. For Customers who buy bulk quantity for the first time, we can send service technicians to offer site instruction service
and short- term stationary point service.
4. Free technical training can be provided to help customers use and maintain the trucks and trailers quickly and correctly.


Sindy Chen
Mobil :+ 86 15890188201