Hot Sale 3 Axis 40CBM8/60Cbm Flour Tank Semi-Trailer for Sale
1.Product Parameters:
Item

Parameter

Overall dimensions: (mm)

10750×2500×3850 mm

tank volume

38 m3

tank thickness

tank body 5mm

unload tube

D type /1 units 7.2m length

manhole

2 PCS

Chassis

Axle

FUWA/BPW 13T*3

tyre

12R22.5 /12

rim

9.0-22.5 /12

leaf-spring

90width*10pieces*12mm/6 sets

relay valve

WABCO

King pin

90#, bolted type

Landing gear

28T standard, two side operation

suspension

Reinforced type

Electrical and braking system for cement tank semi truck trailer:

Electrical system

24 volt electrical system. LED lights, 7 pin electrical connector.
Parking .stop,reverse,number plate and indicator lights. rear lights conform to
European standard,
rear front and side reflectors

Braking system

4 double and two single chambers
T30/30 spring brake chamber 40L air tank and 7 ways Receptacle

Paint (sand blasted )

Chassis is comletely shor blasted to SA 2.5 grade,
and painted with first layer of international Zinc Epoxy primer(30 Microns DEF),
second layer international high built polyurethane under coat(40 microns dft),
third and forth layers international alkyd finish top coat.total 100 microns.
Seawater proofed painting, whole trailer waxed,

Power system(engine and air-compressor) for cement tank semi truck trailer:

engine

Diesel engine,Weifang 4102 type

Air-compressor

12/2 doule cylinder

Accessories for cement tank semi truck trailer:

Ladder

In left and rear position ,width>250

spare tire support

1

walkway

width>1700

tool box

1

Wheel guard

Out of steel
2.Product Advantage: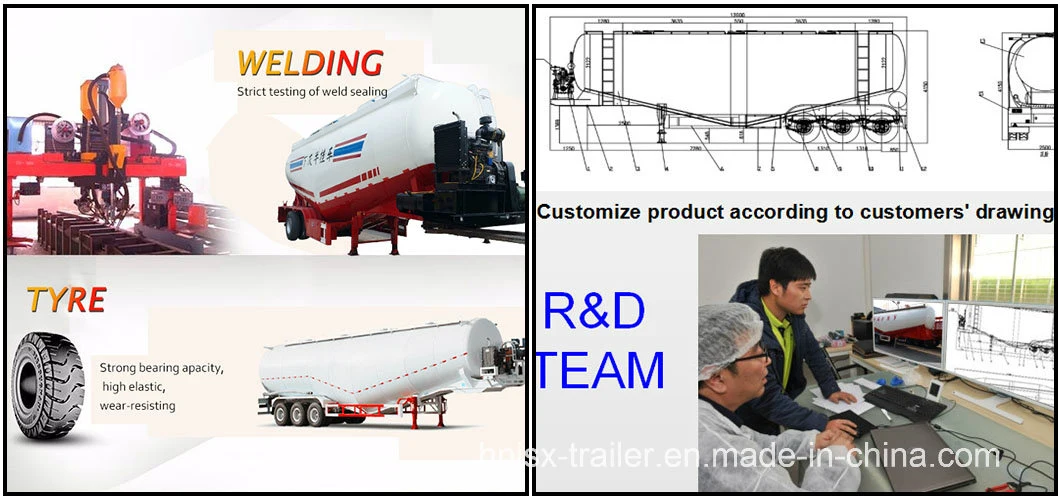 1)cement tank semi truck trailer use the best steel material:
Tank plate usually use Q235,Q345,Q550,AG610L,AG700MC etc, which have advantages of high strength, tensile strength of 620MPa or more, good mechanical properties, welding reliable and light weight etc.
2)Our cement tank semi truck trailer have the lightest weight
High strength steel tank substantial weight loss, according to different road conditions, the frame for different optimization design, maximum limit reduces the weight and the use of ultra light, high quality light weight of the axle, vehicle quality industry is the lightest.
3)cement tank semi truck trailer adopt unique structure:
The new unique no gas chamber structure design and original closed chamber structure design, make full use of fluidization principle, optimization of the traditional gas chamber energy principle. To ensure the normal use of customers while reducing operating costs.
4)cement tank semi truck trailer have high volume rate:
The body of the shell has been applied for the national patent, and the new type of tank body has guaranteed the effective volume to reach 97%--98%, and it can create more value than the same kind of product.

5)cement tank semi truck trailer have low residual rate:
The design and reasonable parameter matching of the canvas belt type fluidized bed makes the residual rate lower, the unloading rate is quicker, saves the cost and improves the efficiency.
3.Product Details: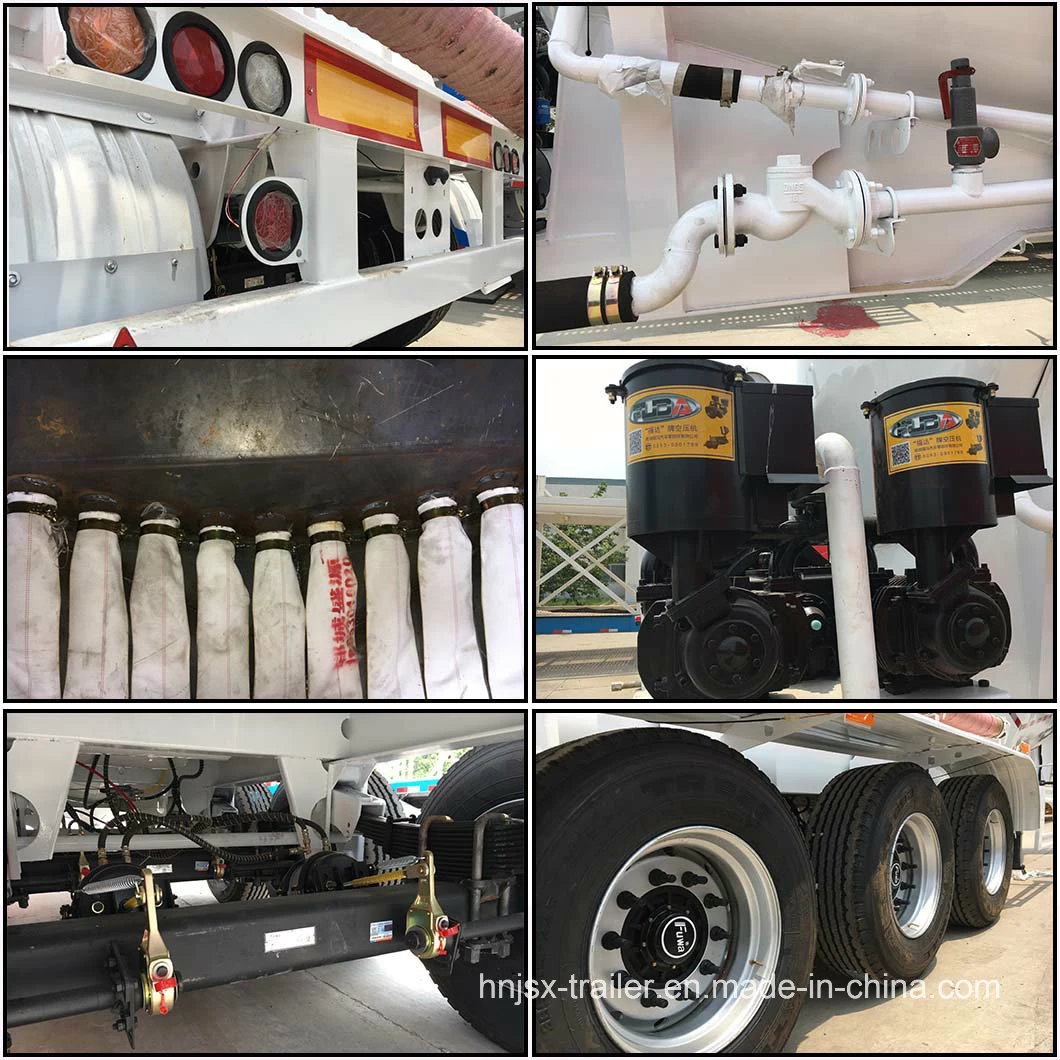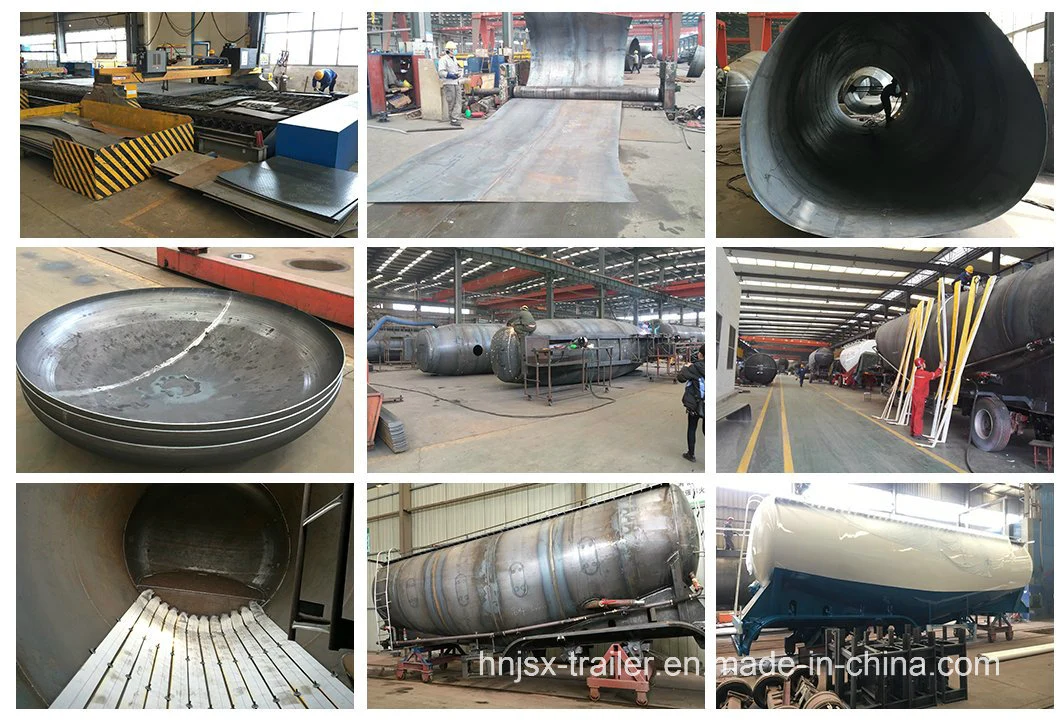 4. Packing & Shipping
:
Cement tank semi truck trailer Wax: Do wax spray to against tank trailer body suffer seawater corrosion during shipping
Cement tank semi truck trailer Package: Stable fixing with steel wire to protect tank trailer during shipping
Cement tank semi truck trailer Shipping by: Flat Rack or bulk cargo or RO-RO.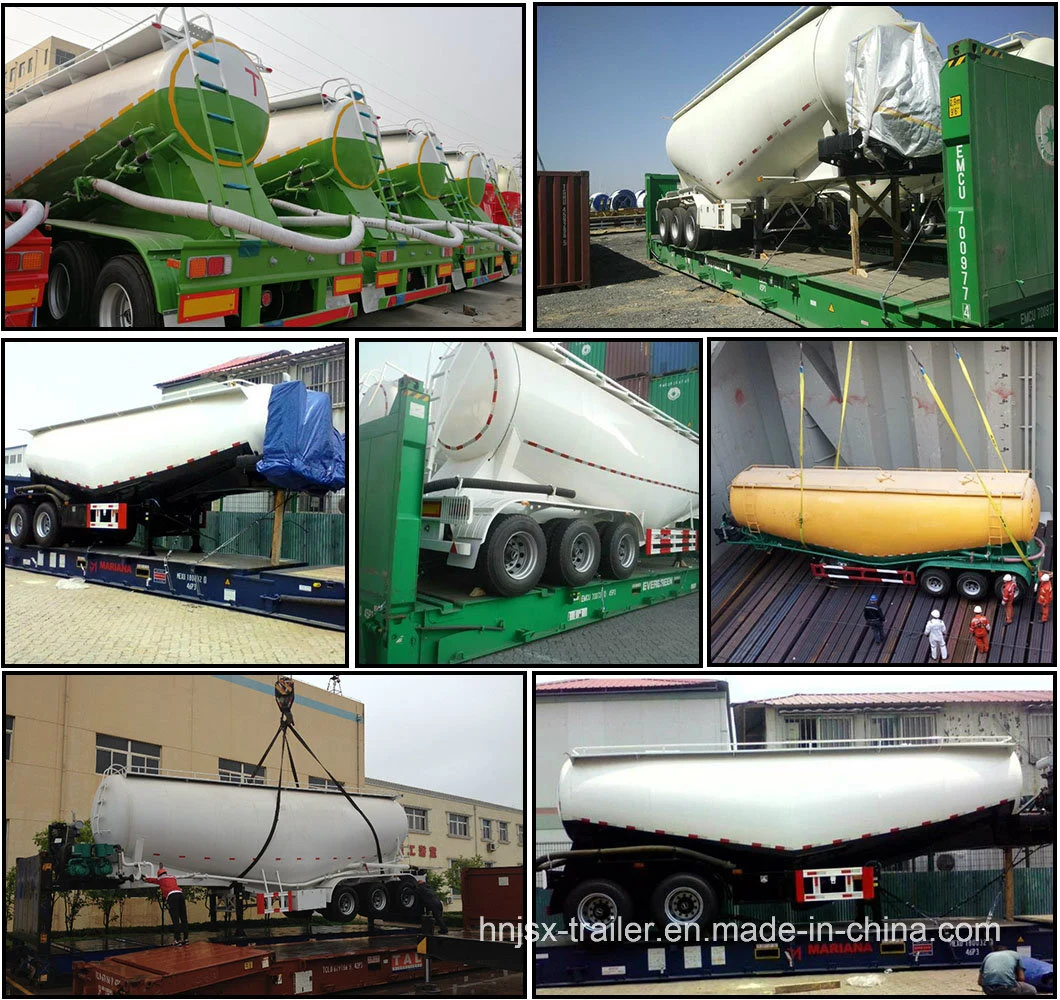 5. Certifications:
Our bulk cement tanker semi trailers are approved by CCC and ISO/TS16949 organization, I think the reports issued by the 3rd party could better clarify the quality of our liquid tank semi trailers.
Products--100% First Class!
Transportation--100% Convenience, Efficient!
Services--Obtaining a satisfied smile!
1.we can do the designs according to the customers' requirement
2.we can offer you the high quality & reasonable price
3.we can offer your a good after-sell service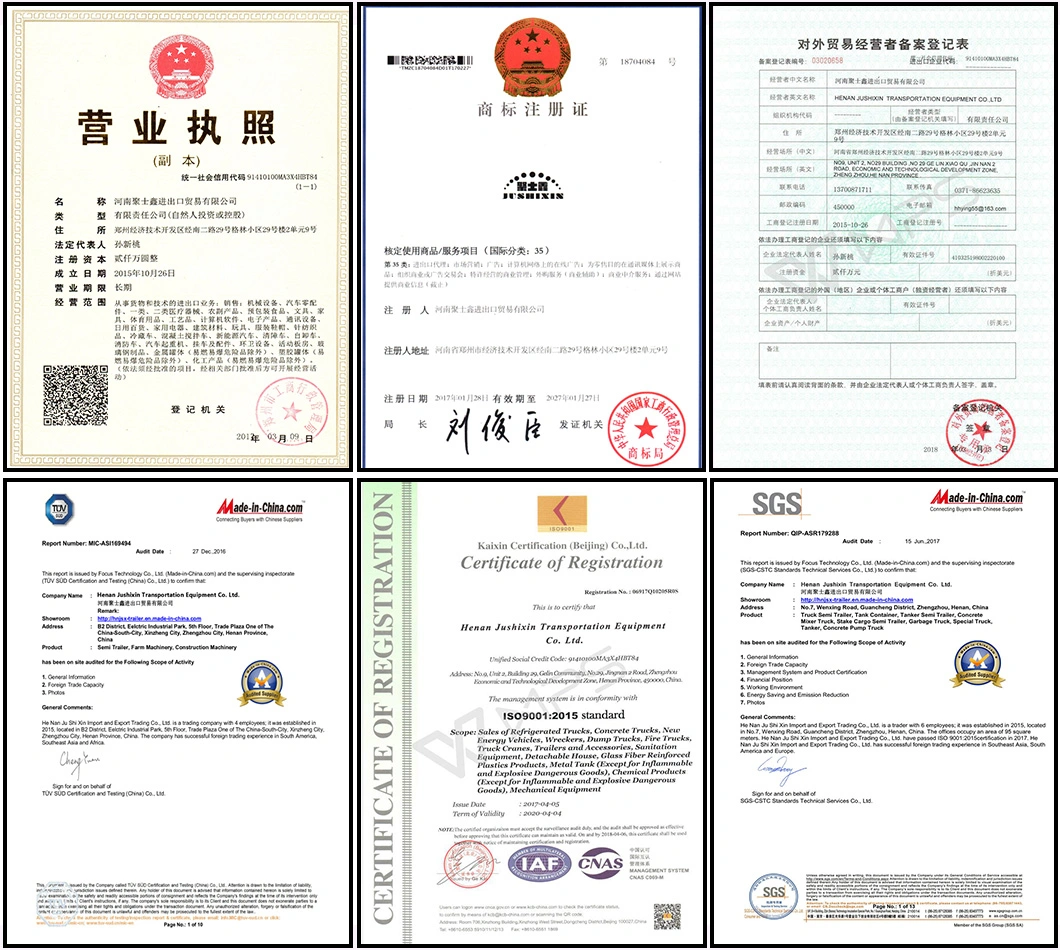 6.Contact US:
If you are interested in our bulk cement tank semi trailer, welcome to contact Alan at any time!