42000l Fuel Tank Trailer (Steel Fuel Tanker Semi-Trailer 3 Axles, 45000L to 54000L)
3 axles, 45000L to 54000L Tank Trailer Manufacturers
45000L Steel 3 Axle Tanker Semi-trailer
tanker semi trailer factory sale Call:86-15271357675
Carbon Steel Fuel Tank Trailer
3 axle inner epoxy coated 42CBM 42M3 42000L fuel tank traile Photos: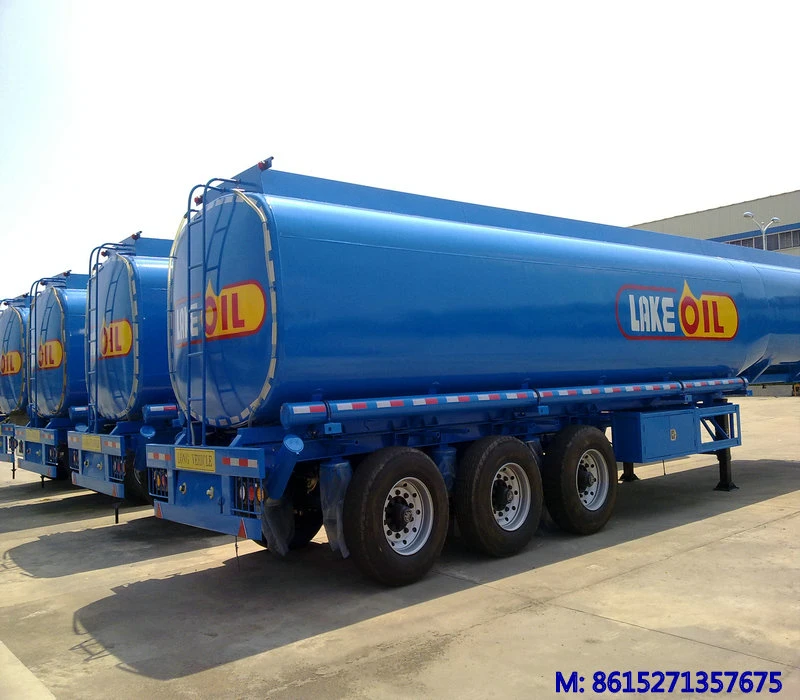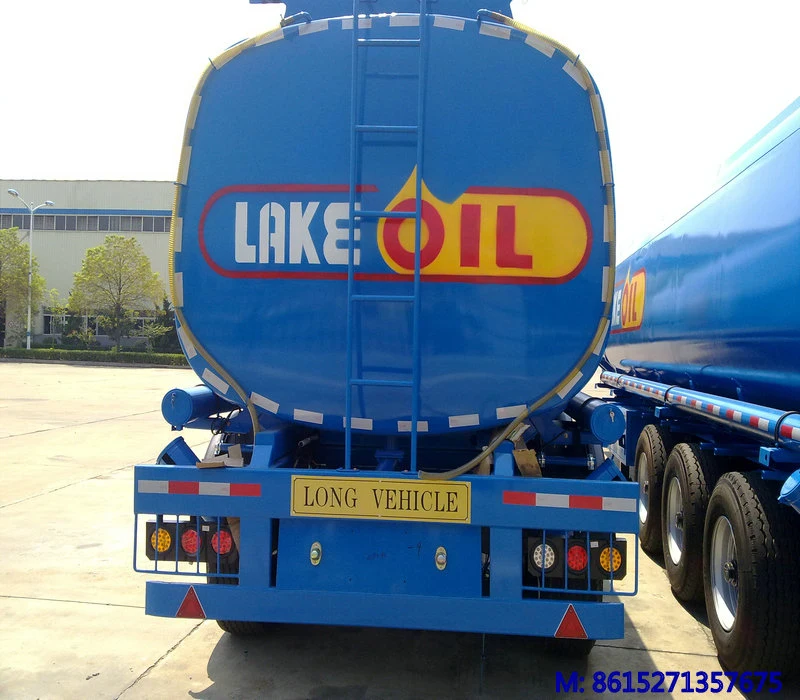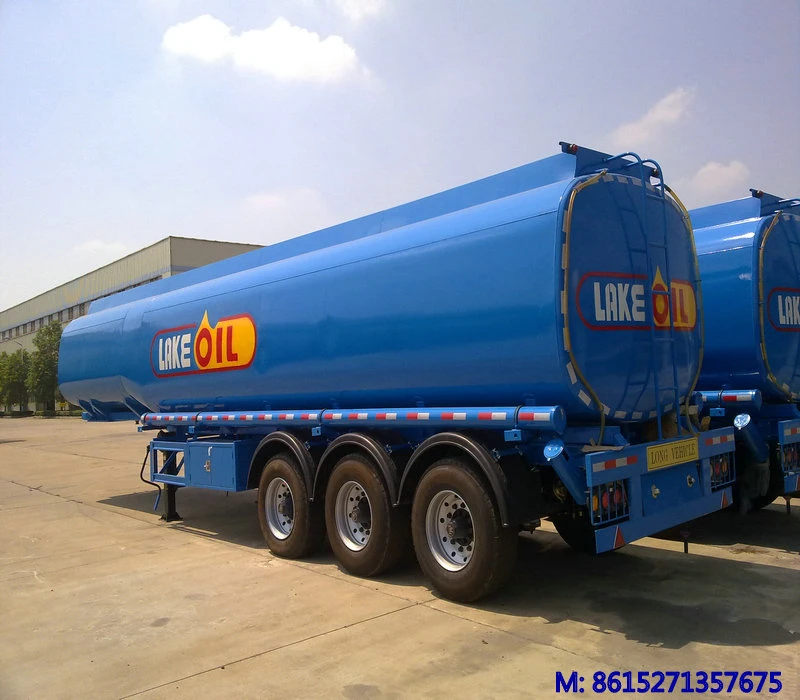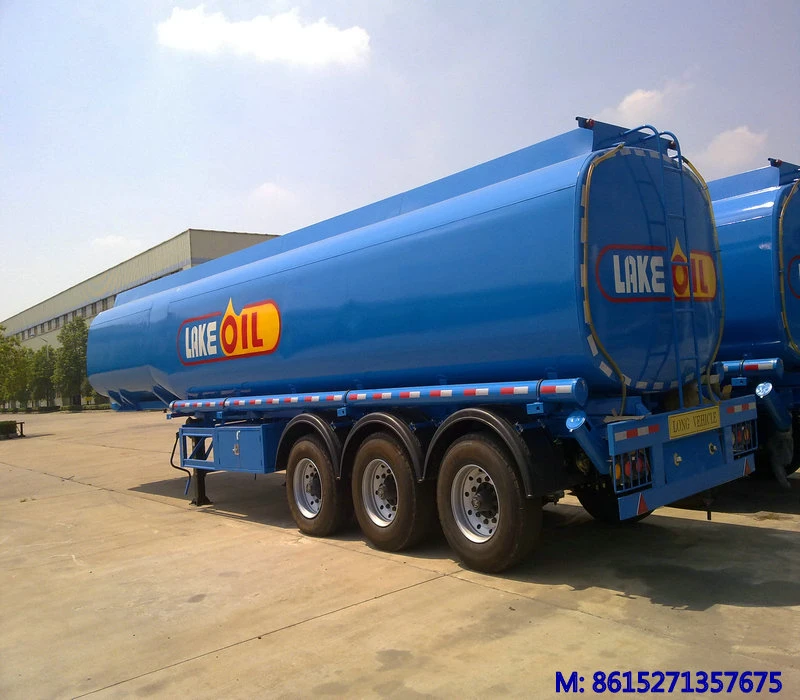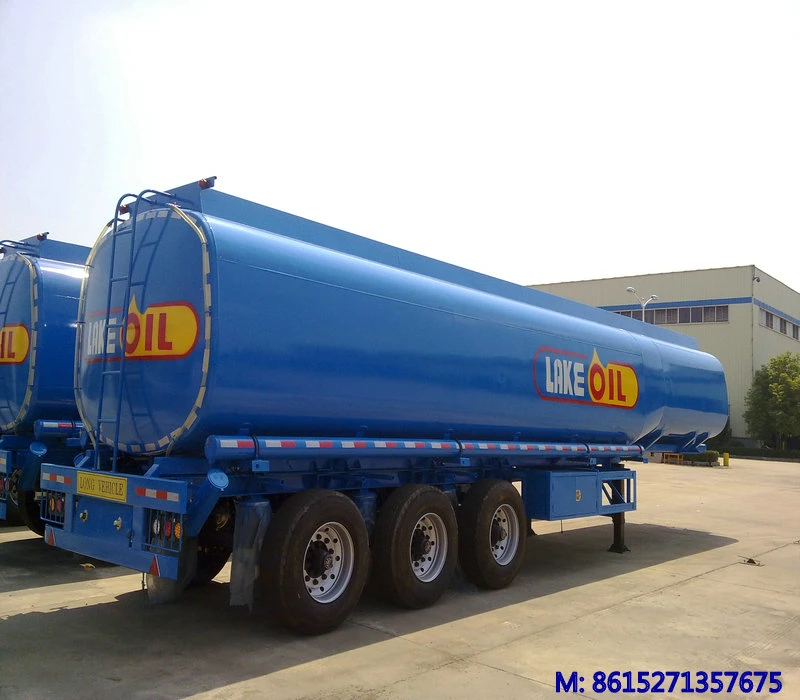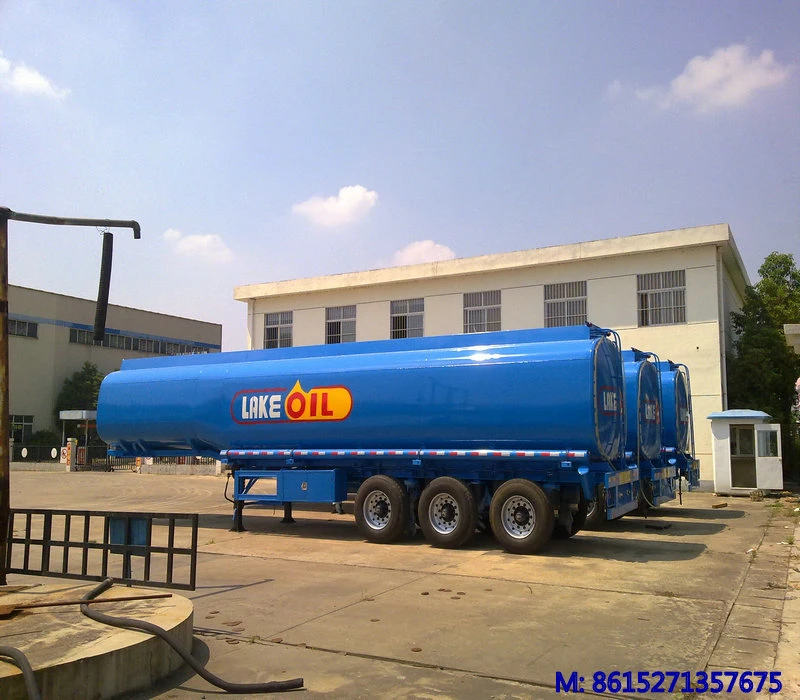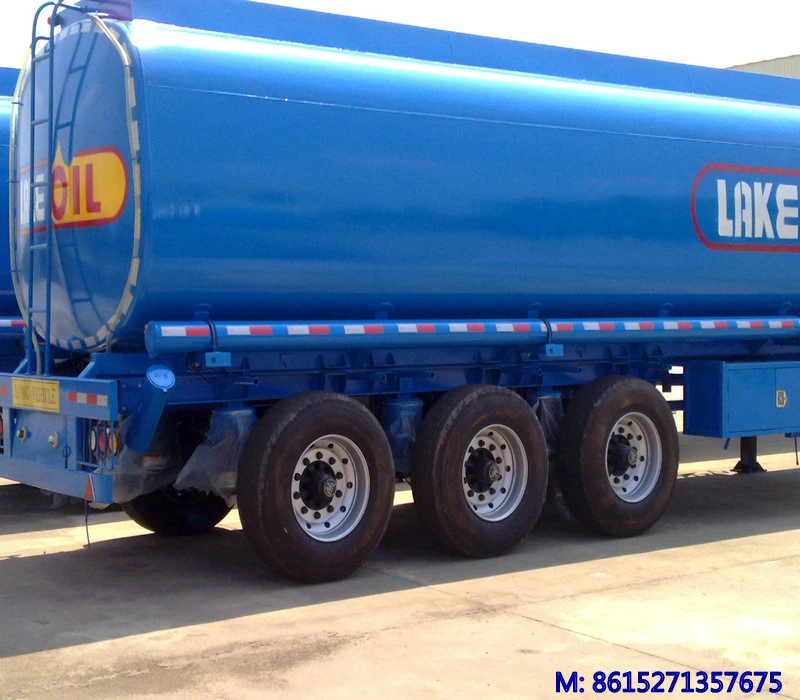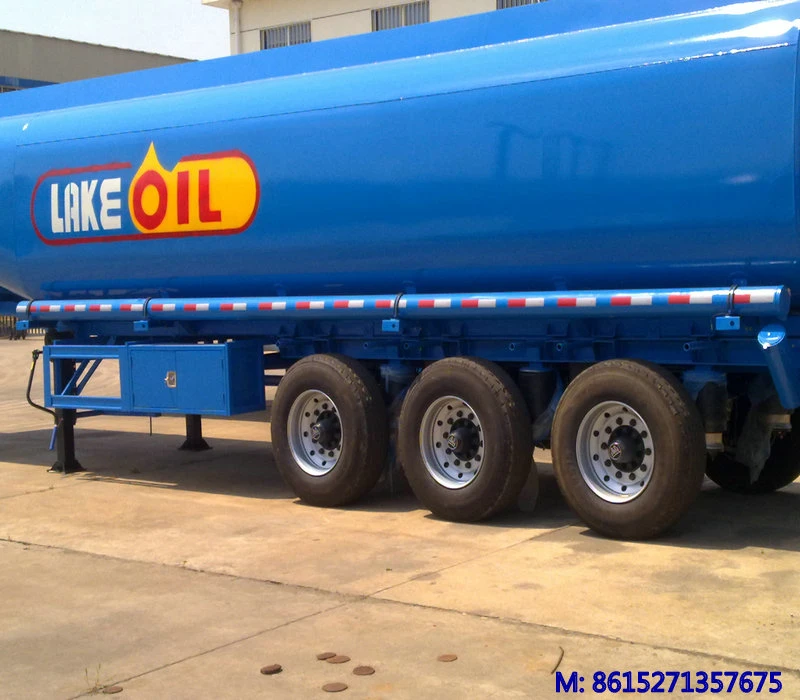 Main Dimensions
Overall Length
12000mm
Overall Width
2500mm
Overall Height
3680mm
Tare Weight
12500KGS
Loading Capacity
45m3
Photo only for reference, final product can be made according to exact requirements
Tank Body
Shape
Mono block Cylinder
Total Volume(m3)
45 CBM
Tanker Body Material
5mm carbon steel
End plate
6mm carbon steel
Lifting Ladder
Including Top walkway and backside steel material
Manhole cover
2 manhole covers, DN500mm 2 sets with 2 breather valves
Bottom Valve
1 sets of API Pneumatic Bottom Valve
Top Safety Rail
1 Set
Discharging valve
2 set DN100mm discharging valves
No. of Compartment
2
Discharging Pipe
4"rubber hose, 2 pc, 6m long
Chassis
Main Beams
Special design I beam, connected by bolts and nuts with tanker body, removable from tanker body for separate transportation;
Axle
3 axles
FUWA 13 Ton
Landing Gear
JOST brand Two-speed, manual operating, heavy duty landing gear
King Pin
JOST brand 2" bolt-in king pin
Suspension
German design heavy duty mechanical suspension
Pneumatic Braking System
WABCO RE 6 relay valve; T30/30+T30 Spring brake chamber; 45L air tanks.
Wheel rim
9.00-22.5 wheel rim, 13 pieces including one spare
Tire
12R22.5 tubeless tire with one spare tire, 13 pieces
Painting
Complete Chassis sand blasting to clean rust, 1 coat of anti-corrosive prime, 2 coats of final paint
Accessories
One standard tool box
Fuel Tanker Semi Trailers From 20000 Liters To 70000 Liters. Such As Oil Tank Trailer, Fuel Tanker Trailer, Heavy Oil Tank Trailer, Fuel Oil Tank Trailer, Liquid Tanker Trailer, Gallon Fuel Tank Trailer, Diesel Oil Tank Trailer, Oil Transportation Tank Trailer, Fuel Tank Cap Trailer, Etc. And Also Support Customized.
World's Famous Axle Brand!--
Bpw And Fuwa.
Various Modes Of Suspension For Your Choice!--
Air Suspension, Mechanical Suspension, Single Point Suspension.
Various Kinds Of Tank Material For Your Choice!--
Q235/Carbon Steel/Cs/Stainless Steel/Ss304/Aluminium Alloy.
European Standard Device Available!--
Oil And Gas Recovery Device, Emergency Cut- Off Valve, Anti-Overflow Device, Overflow Alarm, Loading And Unloading In The Bottom Of The Tank, Exhaust Pipe, Anti-Static Zipper, Api Valve, Flow Meter.
Division Compartments Available,
Equipped With Multi-Channel Anti-Wave Partitions
!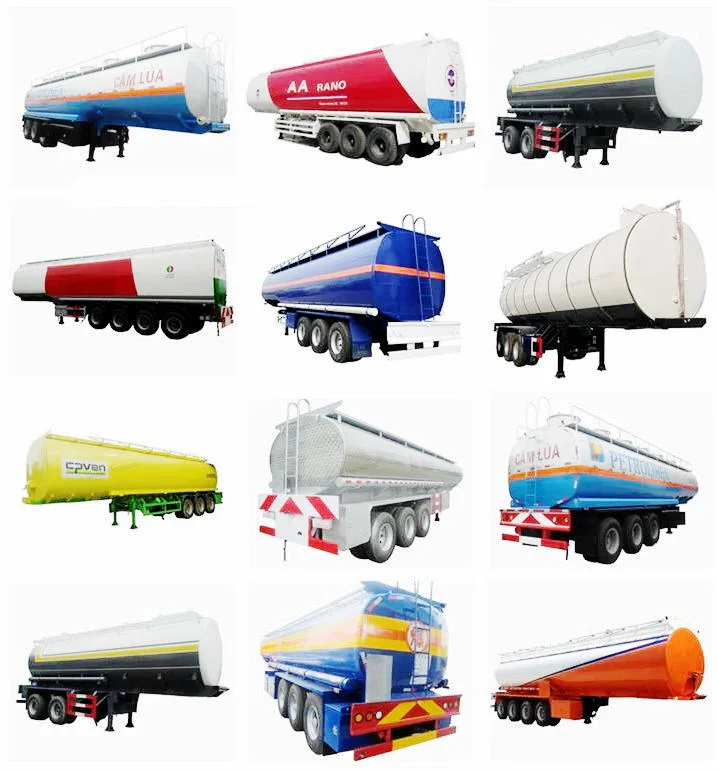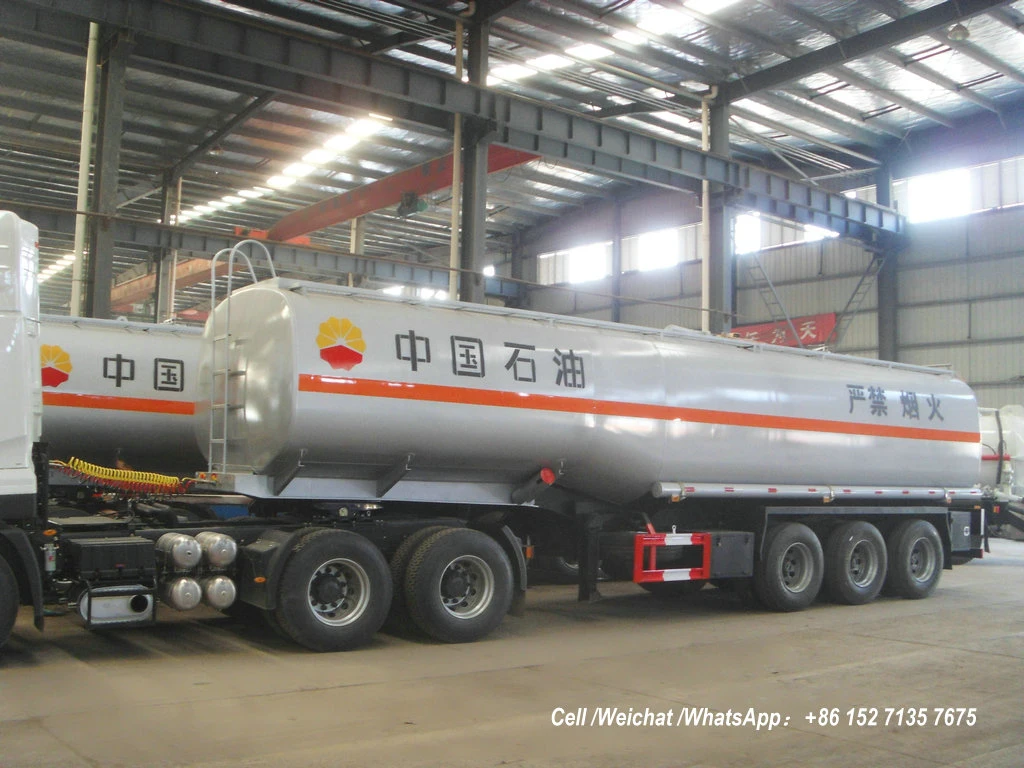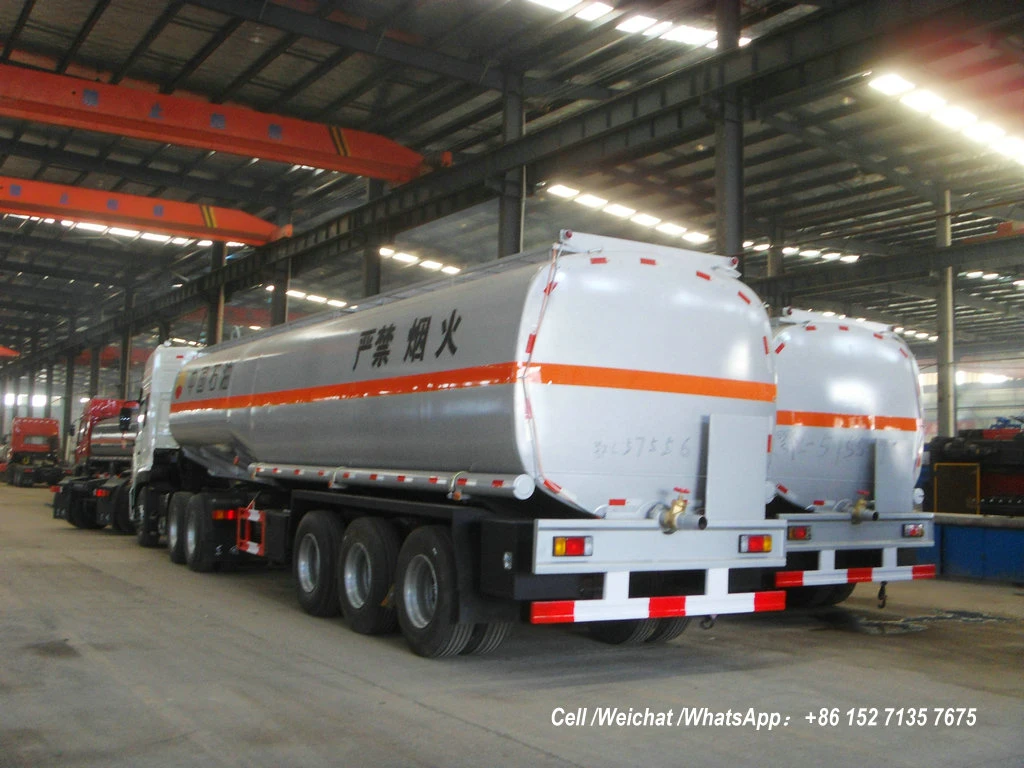 Hot Searches:
Truck Trailer Tank Trailer Cargo Trailer Aluminum Tanker Trailer Bitumen Tanker Semi Trailer Watering Tanker Semi Trailer Asphalt Tanker Semi Trailer Container Tanker Semi Trailer Fuel Tank Semi Trailer Truck
Recommended Suppliers:
Truck Trailer Manufacturers Tank Trailer Manufacturers Cargo Trailer Manufacturers Aluminum Tanker Trailer Manufacturers Bitumen Tanker Semi Trailer Manufacturers Watering Tanker Semi Trailer Manufacturers Asphalt Tanker Semi Trailer Manufacturers Container Tanker Semi Trailer Manufacturers Fuel Tank Semi Trailer Truck Manufacturers
Hot Wholesale Products:
Wholesale Semi Trailer Parts Wholesale Truck Semi Trailer Wholesale Heavy Semi Trailer Wholesale Tank Trailer Truck Wholesale New Semi Trailer Wholesale Semi Trailer Aluminum Tanker Trailer Aluminum Alloy Trailer Aluminum Alloy Tanker Aluminum Alloy Tank Semi Trailer Aluminum Alloy Tank Truck Aluminum Alloy Oil Tanker
Recommended Suppliers
Alloy Bicycle Manufacturers Aluminum Truck Manufacturers Frame Alloy Manufacturers Tank Trailer Manufacturers Semi Trailer Manufacturers Aluminum Trolley Manufacturers Aluminum Tanker Trailer Manufacturers Aluminum Alloy Trailer Manufacturers Aluminum Alloy Tanker Manufacturers Aluminum Alloy Tank Semi Trailer Manufacturers Aluminum Alloy Tank Truck Manufacturers Aluminum Alloy Oil Tanker Manufacturers
Hot Wholesale Products
Wholesale Aluminum Alloy Wheels Wholesale Aluminum Alloy Truck Wholesale Aluminum Oil Tank Wholesale Alloy Trailer Wholesale Aluminum Tank Trailers