New designed 3 axle lpg semi trailer 56CBM 20-22t lpg gas semi trailer for sale
Technical Parameter:
All specification and design can be customized !
We can provide main LPG products as below:
LPG storage tank volume from 5m3 to 200m3
LPGsemi trailer from 24m3 to 60m3
LPG transportation truck from 5.5m3 to 35.5m
LPG Skid Station:20m3 to 60m3
LPG Tank Semi Trailer Function:
The
LNG Tank Trailers
are used to transport liquefied natural gas (LNG) specially.Our company have been in this field several years. with the advantages of reasonable design, proven technology, safe and reliable.The design, manufacturing and inspection of our products are in accordance with the national standards: GB150, GB1589, it is equal to international standards.
LPG Tank Semi Trailer
Specification:
We can design different size LNG Tank trailers for users to correspond with local vehicles loaded weight standard. Here attached 52.6CBM(52600Liters) LNG Tank Trailer Specification for your review.
56M3 LPG tanker semi trailer

Transport medium

Liquefied petroleum gas (propane)

Capacity

56m3

Dimensions (mm)

12700*2500*3965

Tank size (mm)

12330*2450

Self weight (kg)

15480

Load(kg)

23520

Tank material

Q370R

Cylinder: 11.5MnDR, head: 11.5MnDR

Girder material

Q370R

shape

Round shape

Load mass(kg)

23520

Propane density: 420KG/M3

Curing quality (kg)

15480

Total mass(kg)

39000

Head thickness

11.5mm

Tank thickness

11.5mm

design standards

GB150-2011 "Pressure Vessel", GB/T19905-2005 "liquefied gas transport vehicle"

Hazard category

2.1

UN number

UN1075

Design life

15 years

Safety valve form

Built-in full-open

Safety valve model

A411F-25P-15

Safety valve pressure

1.94MPa

Safety valve rated discharge pressure

Less than or equal to 2.16MPa

Safety valve return pressure

Greater than or equal to 1.75MPa

Safety valve seat throat

50mm

Operating temperature

Negative 40 to 55

Hydrostatic test pressure

2.34MPa

Air tightness test pressure

1.8MPa

Level gauge model

UQZ-2.5P

Level gauge form

Magnetic float

Unloading device nominal diameter

DN50

Thermometer model

WSS-412

Thermometer accuracy

Level 1.5

Barrel corrosion allowance

1.0mm

Cylinder design pressure

1.61MPa

Wheelbase (mm)

6865+1310+1310

Front overhang / rear overhang (mm)

front: -, rear: 1540

Track (mm)

1860/1860/1860

Suspension

Leaf spring

Axle

Fuwa 13-ton bridge, three-axis

Tire model and quantity

12R22.5/12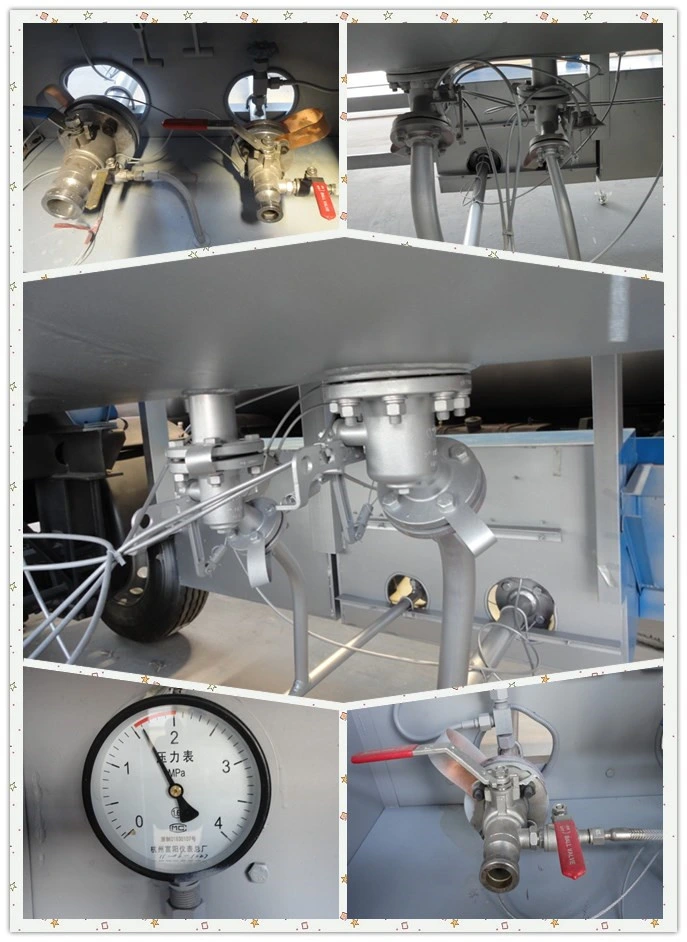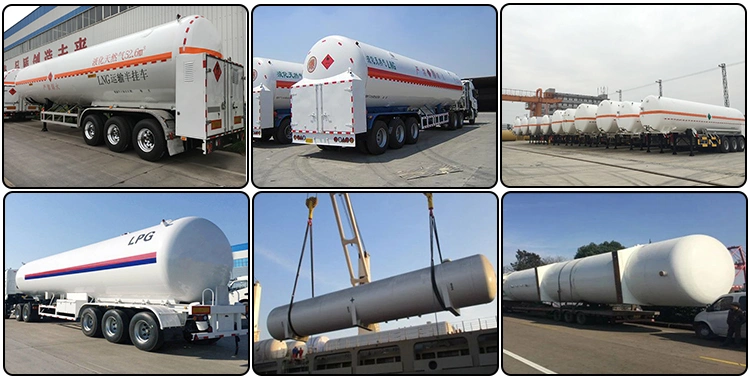 · We accept custom design to meet the conditions of many other gas transport, transport medium include liquid ammonia, liquid sulfur dioxide, Propylene
, propane, liquefied petroleum gas (lpg), dimethyl-ether, normal butane, isobutane, butene, isobutene, butadiene and ethylene oxide
· According to strict manufacturing engineering to guarantee the lowest contractibility rate and highest dimensional stability
· Strict quality testing:A and b class weld joint with 100 percent x-ray radiographic inspection grade ii qualified;C and d class weld joint with 100 percent magnaflux inspection class i qualified
· Corrosion-resistant coating on the tanker surface.Using sand-blasting treatment, spraying, blowing and other advanced technology
LNG Tank Semi Trailer Detailed Photos: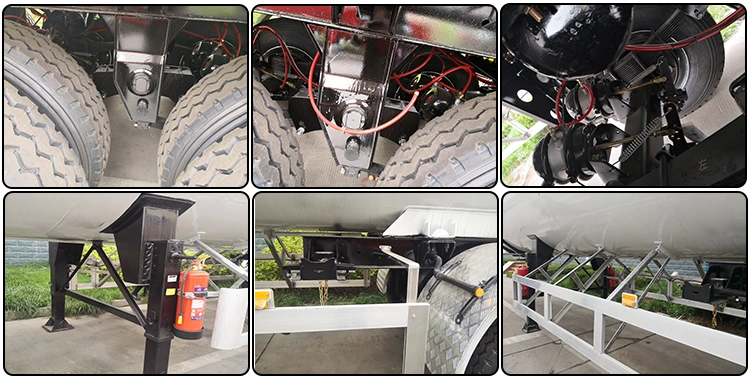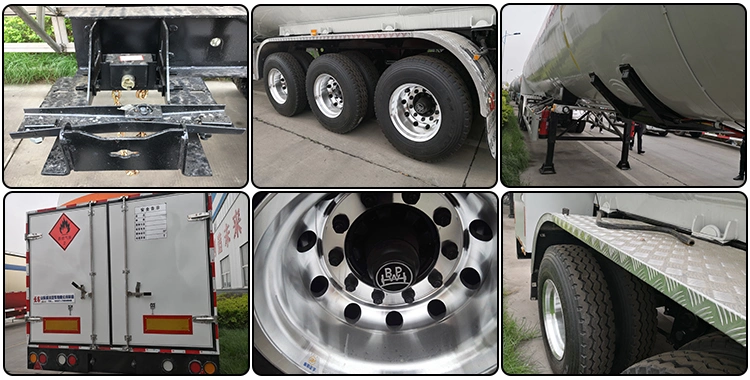 LNG tank semi trailer past CCC and ISO/TS16949 organization:
Our LNG tank trailers are approved by CCC and ISO/TS16949 organization. I think the reports issued by 3rd party could better clarify the quality for our LNG tank trailers. Pls feel free to contact us if any interested in our LNG tank trailer.