60m3 liquid ammonia underground storage tank 30mt lpg skid tank sale in Botswana
-----------------------------------------------------------------------
*Asme standard available*
*100% new condition by manufacturer direct sale*
*100% quality guaranteed*
» I.Product Describution:



Domestic or imported high-quality safety accessories is optional for lpg storage tank.

Tanker volume capacity is optional from 5m3 to 200m3.

According to strict manufacturing engineering to guarantee the lowest contractibility rate and highest dimensional stability.

Strict quality testing:A and b class weld joint with 100 percent x-ray radiographic inspection grade ii qualified;C and d class weld joint with 100 percent magnaflux inspection class i qualified
Corrosion-resistant coating on the tanker surface.Using sand-blasting treatment, spraying, blowing and other advanced technology.

Standard configuration:Safety valve, level gauge, pressure gauge, thermometer, emergency shut-off valve, valve boxes, fire extinguishers, fire star cover, antistatic grounding tape, fencing, tires and fenders.

Asme certification: We are qualified to provide asme standard pressure vessel products, if customer needs.

Manufacturer: Hubei Veldlion Machinery Co.,Ltd.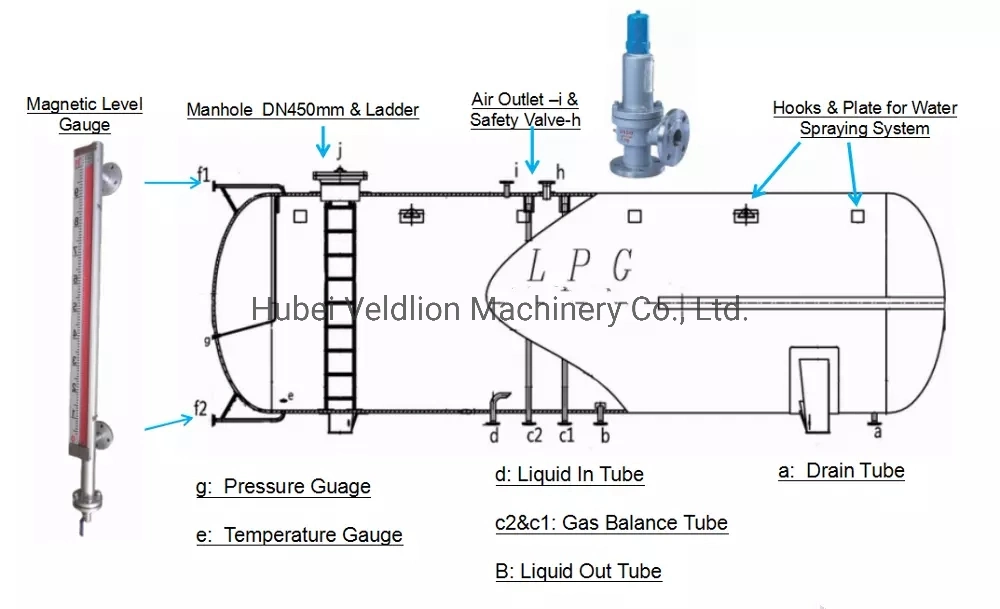 » II. LPG Storage Tank Specification :

ITEM

PARAMETER

ITEM

PARAMETER

Volume

30-100cbm

Thickness of Shell

14mm

Tank Material

Q345R

Thickness of End plate

16mm

Overall Size

10962*2728*3318mm

Tank Net Weight

12750kg

Tank Diameter

2700mm

Loading Capacity

23940kg

Design Pressure

1.77Mpa

Gas Density

420kg/M3

Hydraulic Test Pressure

2.22Mpa

Corrosion Allowance

1mm

Design Temperature

-20ºC~60ºC

Heat Treatment

Bulk

Vapor Outlet

DN50

Gas Outlet

DN50

Life time

15 years

Accessories

Model

Item

Qty

Junction surface

J41N-2.5-50

Stop Valve DN50

6

RF

J41N-2.5-25

Stop Valve DN25

2

RF

J41N-2.5-100

Stop Valve DN100

1

RF

J24W-320-DN6

J24W Needle Valve M20*1.5

1

/

HG21584-95

Magnetic plate level Gauge UZFAL-2.5RF-3040-0.5

1

RF

A42F-25-100

Safety Valve DN100

1

RF

Y-100T

Pressure Gauge M20*1.5 1.5degree 0~4Mpa

1

/

WTQ-280

Thermometer M33*2 2.5 degree

1

-40ºC~60ºC
»
III. Product Detailes: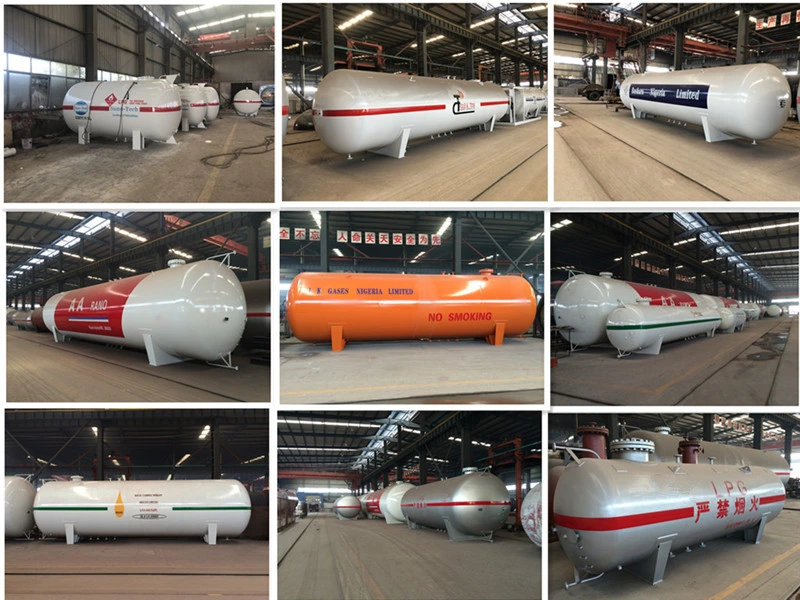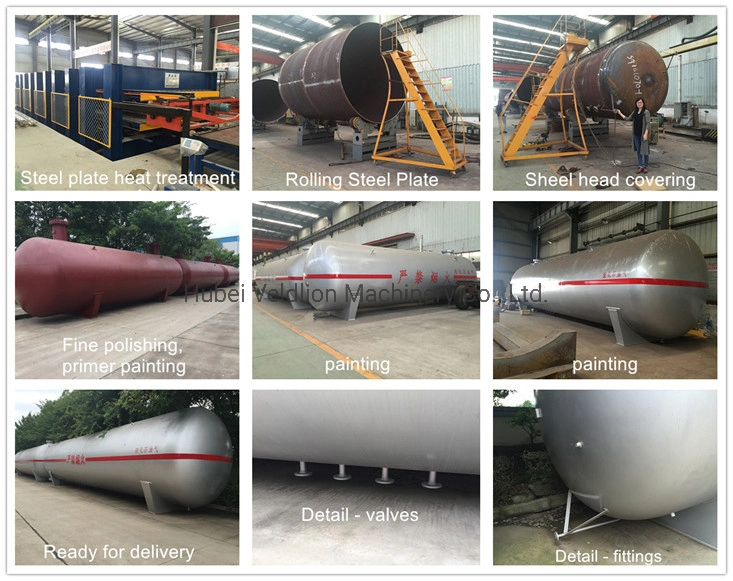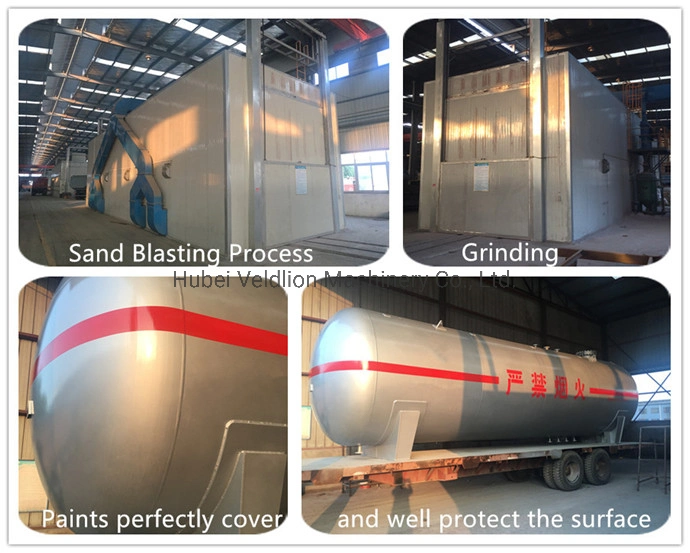 » IV.Company Introduce: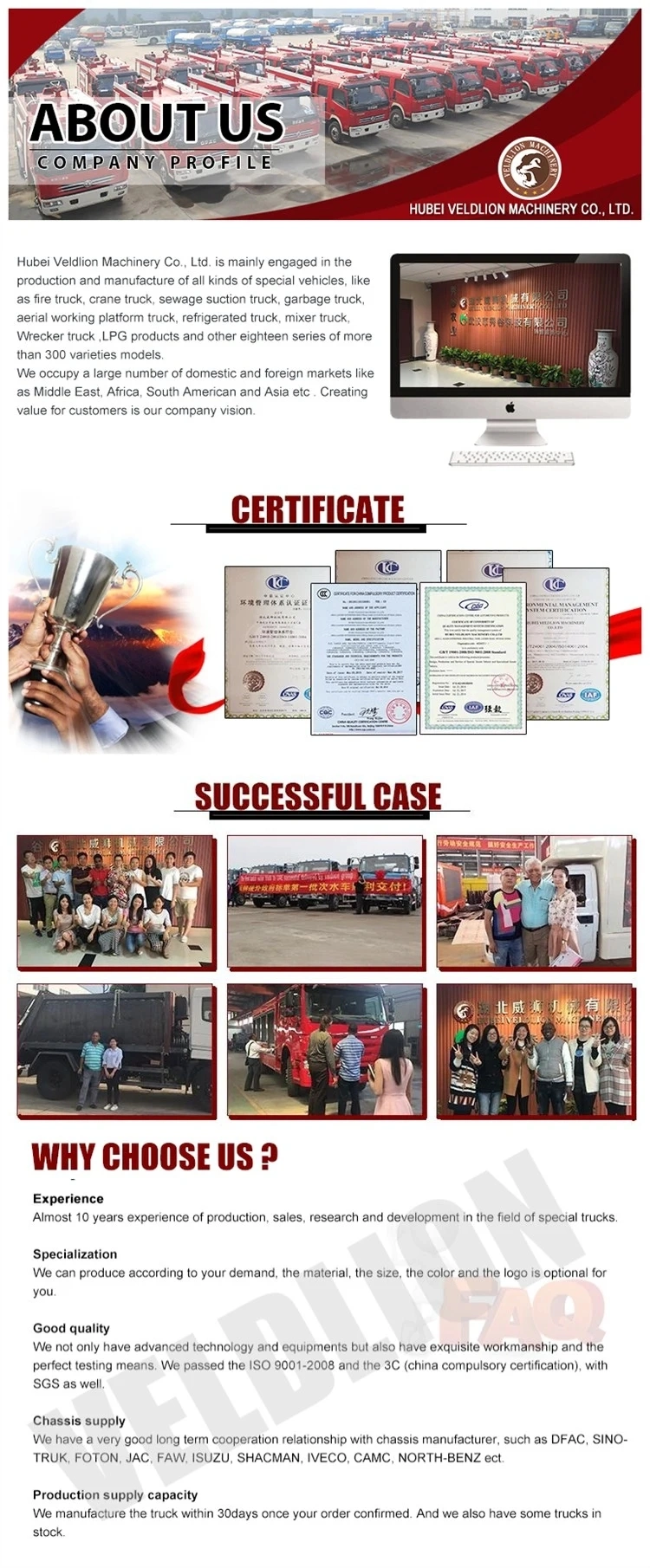 » V. Packaging & Shipping:
Thick wax polished on products before shipping to protect.
Use container, RORO/bulk ship or others as your requirement.
We provide transportation insurance to guarantee the new and great condition of products for customers.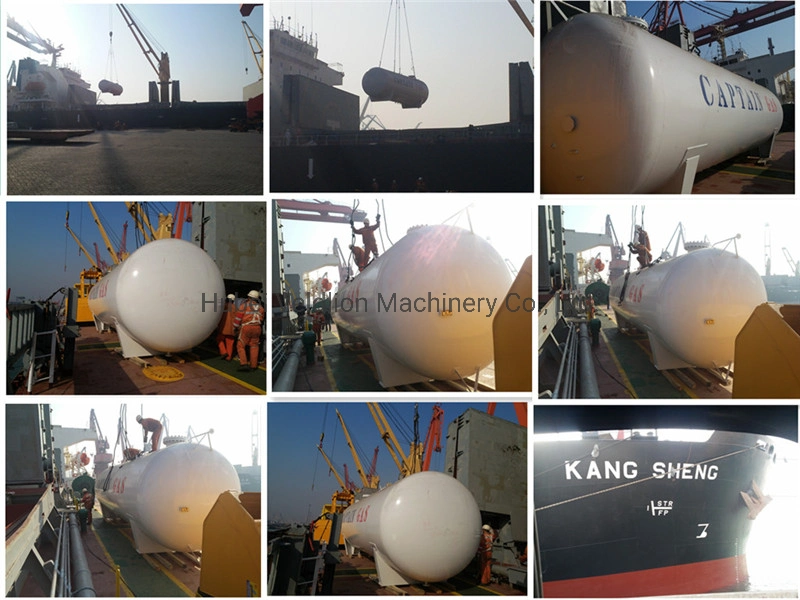 YOU ARE ALWAYS WELCOMED TO VISIT OUR FACTORY