QUICK DETAILS OF 59.6m3 LPG Tank Trailer
(1) LPG TANK TRAILER
(2) Loading capacity: 23.52 T
(3) Tanker volume: 56000 litres
We can offer 2 axles,3 axles LPG tank semi trailer. Volume from 40m3 ~ 60m3 with ASME standard.

I . LPG TANK SEMI TRAILER DETAILED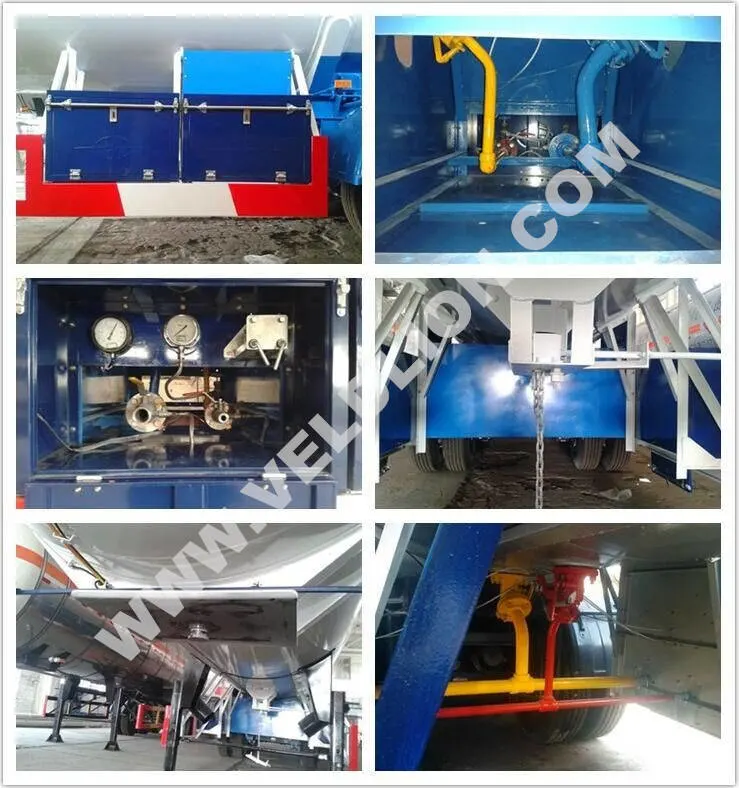 1.Designed Pressure: 1.77Mpa
2.Filling Ratio: 0.42-0.59 kg/L
3.Working Temperature:-50ºC
4.Corrosion Allowance: 1mm
5.13TBPW axle,ABS system,Single out the liquid ,Double toolkit,thermometer,pressure gage,JOST king pin,JOST leg,Emergeny cut-off valves,Safety valve,12 tubeless tire and one spare tire,fire extinguisher,anti-static tape.
III.LPG TANK SEMI TRAILER MAIN COMPONENT



III.FACTORY VIEW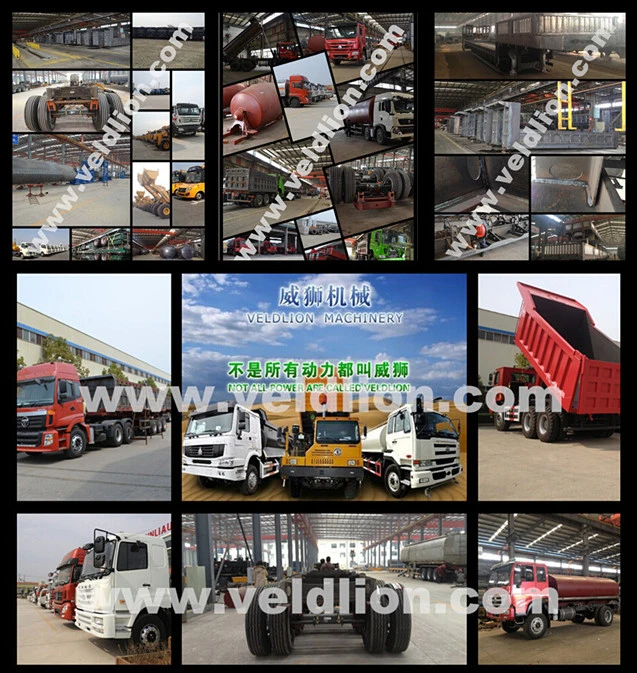 IV. COMPANY INTRODUCE
HUBEI VELDLION MACHINERY CO., Ltd is an authorized LPG TANK manufacturer.We are specialized in the production of a variety of special-purpose vehicles and tank semi trailers.
Create value for our customers is our company's concept. Welcome to enquiry from us, Let's our sales team make you more great in this field.

V . OUR MAIN PRODUCT:
1. Dump Truck/Tipper Truck
2. Fire Fighting Truck
3. Truck with Crane
4. Semi-Trailer and Tractor Truck
5. Water Tank Truck,
6. Fuel Tank Truck,
7. Concrete mixer truck ,
8. Fecal suction truck, sewage suction truck,
9. Light Cargo Truck,Mini Truck ,
10. High-altitude operation truck,
11. Garbage Truck, Compactor Garbage Truck, Sealed Garbage Truck,
12. LPG tank truck.LPG storage tank,LPG semi trailer
13. Bulk Cement Truck, Powder tank truck
14. Chemical liquid tank truck
15. Van truck, insulated truck, Refrigeration Truck


VI.Strong advantage:


1.More than 300 workers ,large and advanced production;
2.Have professional engineer, can offer the best and cheapest design;
3.Build strict QC team to guarantee the quality;
4.Own profesional sales team, can offer follow-up service;
5.High quality with resonable price;
6.Euro II,III,IV,V emission standard are optional.
VII. CONTACT INFORMATION
If you want to know more about our 59.6m3 LPG Tank Trailer,please do not hesitate contact with us as below:

HUBEI VELDLION MACHINERY CO., Ltd
ATTN: Real Liu
Mobile phone: +86 13656866460
Website: veldlion.en.made-in-china.com
VIII.PARAMETERS DATASHEET OF
59.6m3 LPG Tank Trailer
Technical Parameter of 25ton LPG Tank trailer
Item
Unit
Data
Semi-trailer
Curb weight
kg
1500
payload
kg
2500
Gross vehicle weight
kg
40000
capacity
M3
59.52
Pressure of leak test
Mpa
1.77
Vehicle dimensions(L*W*H)
13000*25000*3990
Full load
Fifth wheel load
kn
15970
Rear axle load
kn
23980
Max. Vehicle roll angle
≥350
Designed limited velocity
Straight road
Km/h
80
Turning
Km/h
20
Tank
Designed pressure
Mpa
1.61
Designed temperature
ºC
50
Filling medium
Propane gas
Tank material
Q370R,Q345R
Corrosion allowance
mm
1
Tank mass
kg
10720
Hydraulic test pressure
Mpa
2.66
External dimensions
mm
2475*11.5*12840
(Diameter*thickness*length)
Vessel's sort
The third kind
Service years
Ten years
Urgent discount device
Type
Mpa
QCY43-2.5
Nominal pressure
PN2.5
Nominal diameter
Gas phase
mm
25
Liquid phase
mm
25
Operation way
Hydraulic type
Closing time
sec
less than 10
Melting switch temperature
ºC
65~75
Safety valve
type
A412F-2.5-16
model
Inner full lift
Nominal pressure
Mpa
PN2.5
Nominal diameter
mm
80
Opening pressure
Mpa
1.86~1.94
Closing pressure
Mpa
1.49~1.55
Complete opening pressure
Mpa
<2.12
Indicator Gauge
type
ZGM2.42/2.5
Model
Rotary type
Nominal pressure
Mpa
2.5
Surveying range
mm
0~2400
precision
2.5 grade
Loading & unloading valve
Valve type
YKAG-3.3-6
YKAG-3.3-7
model
Quick tie-in
Nominal diameter
gas phase
mm
25
Liquid phase
mm
50